July welcomed 2 new Conservation Volunteers to Eigg, Sally and Holly, who have been assisting me with wildlife monitoring, guided walks and our events programme.  This blog post comes courtesy of Sally Dunbar, talking about the recent Orca sightings on Eigg.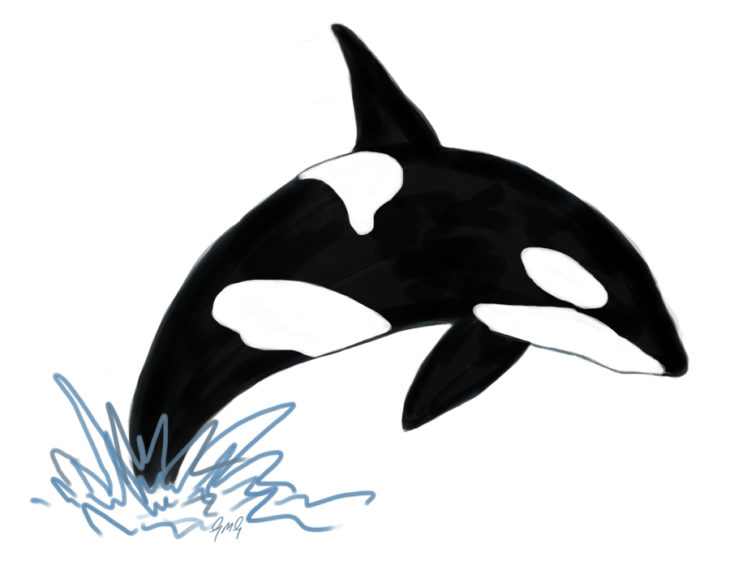 July has been a killer month for spotting killer whales all over Scotland, and Eigg has been no exception!  On the 9th of July the island was visited by a pod of 3 orcas and if you were lucky enough to be out on a boat you were treated to a spectacular sight.
There are two populations of killer whales found in Scottish waters.  The Northern Isles Community is a migratory group of orca that move between Iceland and Scotland, which are seen predominantly off of Orkney, Shetland and the Outer Hebrides.  The second population is known as the West Coast Community and are Scotland's only resident group.  They are comprised of 8 adults (4 males and 4 females) and chances are that if you see an orca around about Eigg that they belong to the West Coast Community.
The trio were spotted between Eigg and Muck, heading for Skye, before bearing off out towards the Minch.  The Hebridean Whale and Dolphin Trust (HWDT) have since identified one of them as John Coe (W01), a large male and superstar of the West Coast Community of orcas.
Earlier that day John Coe had also been spotted just off of Ardnamurchan Lighthouse where he was seen to be feeding on what is thought to be harbour porpoises, the main food source of West Coast Community.
It's not just orca in the waters around Eigg, July has also had regular sightings of harbour porpoise, common dolphin, bottlenose dolphin, minke whale and we are now on the look out for basking shark!
Eigg is a registered Whale and Dolphin Conservation (WDC) Shorewatch site so if you happen to spy some of their enthusiastic volunteers on the hill behind Glebe Barn pop along and see if they've spotted anything in the water!
Hopefully John Coe and his pals will treat us to another visit before our placement finishes at the end of July.
Sally Dunbar, Eigg Conservation Volunteer.
If you have seen any dolphins, whales or sharks off of the coastline of Eigg please send your sightings to Gillian at isleofeiggranger@scottishwildlifetrust.org.uk
Help protect Scotland's wildlife
Our work to save Scotland's wildlife is made possible thanks to the generosity of our members and supporters.
Join today from just £3 a month to help protect the species you love.
---
Preface
July welcomed 2 new Conservation Volunteers to Eigg, Sally and Holly, who have been assisting me with wildlife monitoring, guided walks and our events programme.  This blog post comes courtesy …