Our Living Seas – Scotland's Seagrass Meadows
In this guest blog Richard Lilley, Founding Director of Project Seagrass, explains the importance of this special habitat, and how people can help by submitting records through Seagrass Spotter
Seagrasses are flowering plants that live in shallow sheltered areas along our coast. These sensitive plants are different from seaweed because they have roots and leaves, and they produce flowers, seeds and fruit. Seaweeds in contrast use 'holdfasts' to anchor to objects and only produce spores.
These differences are critical to the ecology of seagrass ecosystems since seagrasses use their roots to extract nutrients from sediment, whereas seaweeds extract nutrients from the water column.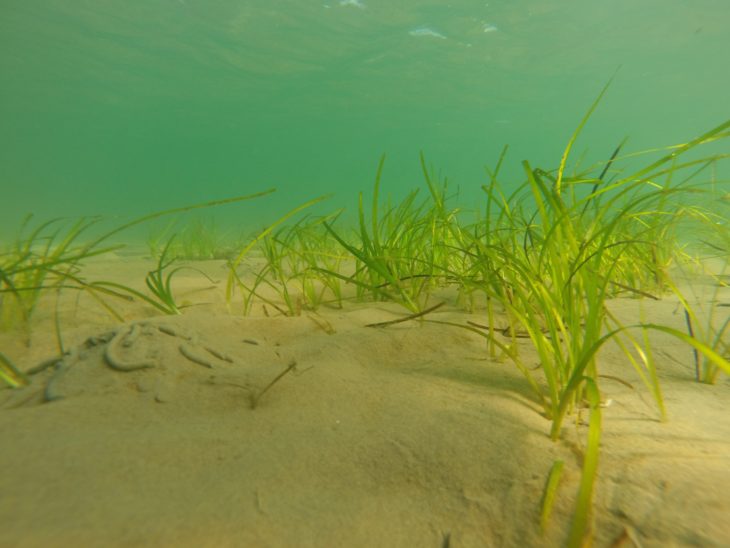 Although it might not look like it, seagrass is incredibly important around our coasts, for people, biodiversity and the planet.
The common name for the subtidal species that exists in Scotland's waters is 'eelgrass', although a smaller species of 'dwarf eelgrass' also exists in the inter-tidal zone (the area of land covered at high tide and uncovered at low tide).
Seagrasses form large, dense meadows under the sea. Like the coral reefs and rainforests of the tropics, these underwater gardens are full of life, hosting many animals of different shapes, colours and sizes. Around 40 times more animals occur in seagrass meadows than in bare sand.
Seagrass meadows are under threat
However, like rainforests and coral reefs, these incredible underwater gardens are threatened. Globally, estimates suggest we lose an area of seagrass around the same size as two football pitches every hour. Protecting what is left is vital.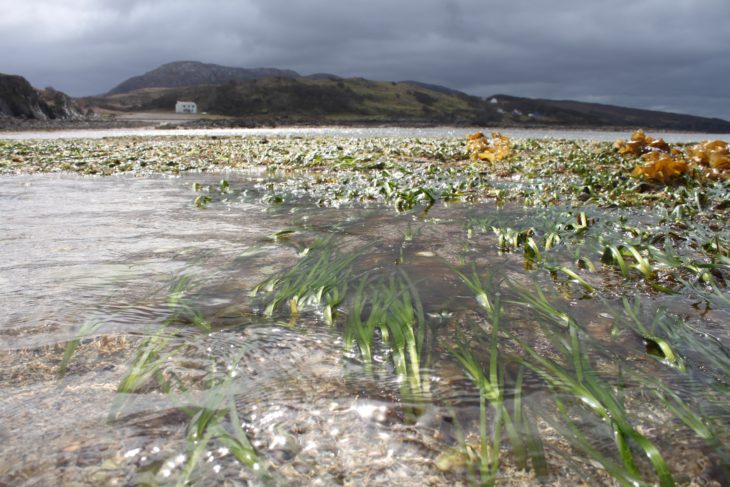 Storms, disease and human induced threats such as pollution and decreased water clarity, often triggered by excessive nutrients and sediments in runoff from the land, can have devastating local effects. Physical damage can also occur from contact with boat propellers and from chain moorings.
Generally, if only leaves and above-ground vegetation are impacted, seagrasses can recover from direct physical damage within a few weeks; however, when damage occurs to roots and rhizomes, the ability of the plant to produce new growth is severely impacted, and it may never be able to recover.
Vital carbon sinks and fishery powerhouses
But why do we want to save seagrass? Seagrass meadows act as a natural sea defence by trapping sediment and slowing down currents and waves, leading to reduced coastal erosion.   These underwater meadows provide a home for many baby fish, including commercially important species such as cod, plaice and pollock, and charismatic animals such as the spiny and short snouted seahorses.
Seagrass meadows can also be a major source of food for wildfowl, particularly wigeon but also mute and whooper swans. Seagrass meadows also absorb and store large amounts of carbon. They cover just 0.1% of the sea floor but responsible for 12% of organic carbon buried – and are vital in the fight against climate change.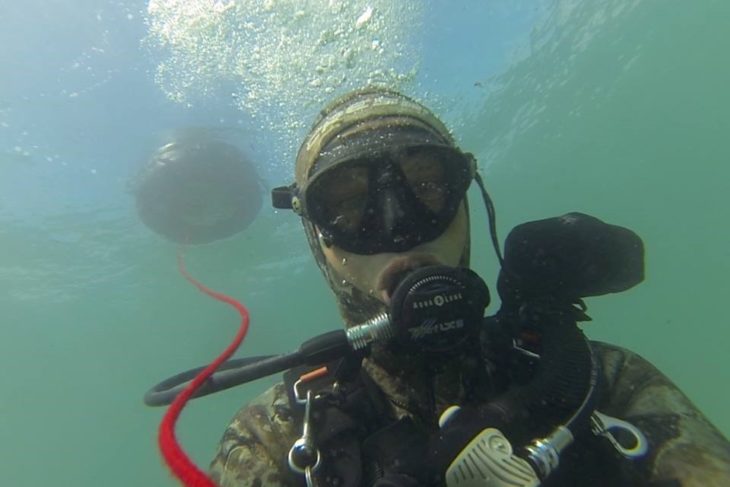 It's not just about the biological and economic benefits. Seagrass meadows also bring social benefits too. Seagrass meadows are fascinating great snorkel sites, with plenty of baby fish, crabs and other critters to find in amongst the leaves. I'm sure that's why the Scottish Wildlife Trust included Gruinard Bay in the North West Highlands Snorkel Trail.
Help build a better picture of Scotland's seagrasses
Project Seagrass were pleased to learn recently that seagrass is one of the Scottish Wildlife Trust's existing priority species and there are opportunities to work together on projects that increase our knowledge about these important species, and contribute towards connected network of healthy, resilient marine ecosystems that support Scotland's wildlife and people.
For the Trust and Project Seagrass to work to protect our critically important seagrass meadows we need to first have a better understanding of where they are, understand their importance, know the things that might damage them and promote policies and practice that will help conserve them.
While Scotland has a proud history of biological recording, seagrasses have rarely figured in that data collection, and together we want to change that. When we don't know where seagrasses are these habitats that provide so many important functions to our coastal seas can disappear without anyone even noticing.
Studying seagrass is challenging. It requires time, energy, funding and experts willing to conduct research. Governments, universities and charities all try to carry out this vital mapping work but it's too expensive and time consuming, especially in an era of austerity.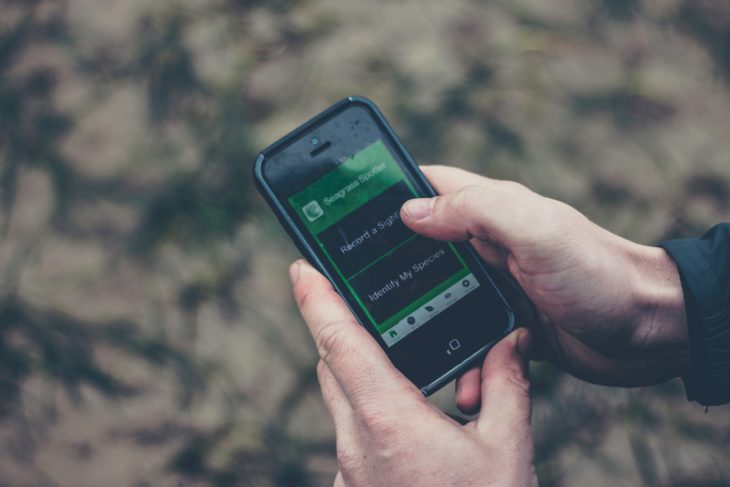 Relying on data only gathered by experts leaves a huge information deficit and this is where citizen scientists come in. Observations made by members of the public can help bridge the gap in our knowledge, as in many areas of Scotland basic distribution information is still badly needed.
The idea is simple. We're inviting the public to upload photos of seagrass from known locations around the British Isles using either the phone app or directly on the website.
We're also asking contributors to answer some simple questions about the seagrass at the site. The data will be then be publicly available for anyone to use, and together we can contribute to national data sets such as the National Biodiversity Network's Atlas of Living Scotland.
We don't expect contributors to have prior knowledge of marine biology and the website and app will provide all the information a person may need. We hope this will allow for informed marine spatial planning around our coasts.
Become a Seagrass Spotter
With Seagrass Spotter, we want to map and record more of the seagrass in Scotland to be able to help protect it for future generations. Seagrass Spotter seeks to expand the number of people studying seagrass from a handful of scientists to hundreds and potentially thousands of citizen scientists.
As part of efforts to build a sustainable monitoring network, and by leveraging the enthusiasm of everyone – from fishers to scuba divers and wildlife enthusiasts to tourists -we'll create a more comprehensive picture of seagrass meadows around the British Isles.
This in turn will help target the conservation measures – including protection of seagrass meadows through Marine Protected Areas, better regulation of land use in catchment areas to reduce pollution and better regulation of aquaculture and fisheries in or adjacent to eelgrass beds – required to protect them.
Richard Lilley is a Founding Director of Project Seagrass.
The Seagrass Spotter app is available for Apple and Android devices. You can also submit records at SeagrassSpotter.org/
Help protect Scotland's wildlife
Our work to save Scotland's wildlife is made possible thanks to the generosity of our members and supporters.
Join today from just £3 a month to help protect the species you love.
---
Preface
In this guest blog Richard Lilley, Founding Director of Project Seagrass, explains the importance of this special habitat, and how people can help by submitting records through Seagrass Spotter Seagrasses …