Isle of Eigg – The Season So Far
It has been a busy couple of months here on Eigg with surveying and events now in full swing. May saw the start of the weekly guided nature walks where we have been lucky enough to see golden eagle, white-tailed eagle, hen harrier and a variety of insects and plant life. The walks continue every Wednesday through to August meeting at 11am outside the Swap Shop. Seven of us also braved an early morning rise for a Dawn Chorus walk at the start of May to hear the bird song in the Lodge Gardens. We were treated to chaffinch, chiff chaff, blackcap, robin, blackbird, wren, greenfinch, willow warbler and dunnock.
Dragonflies and damselflies are in flight with a recent Dragonfly Hunt event at the Giant's Footstep finding blue-tailed damselfly, large red damselfly, common blue damselfly, four-spotted chaser, golden-ringed dragonfly and an emerging common hawker. The sunshine has also brought out the green tiger beetle with the forestry tracks and path to Grulin being hotspots.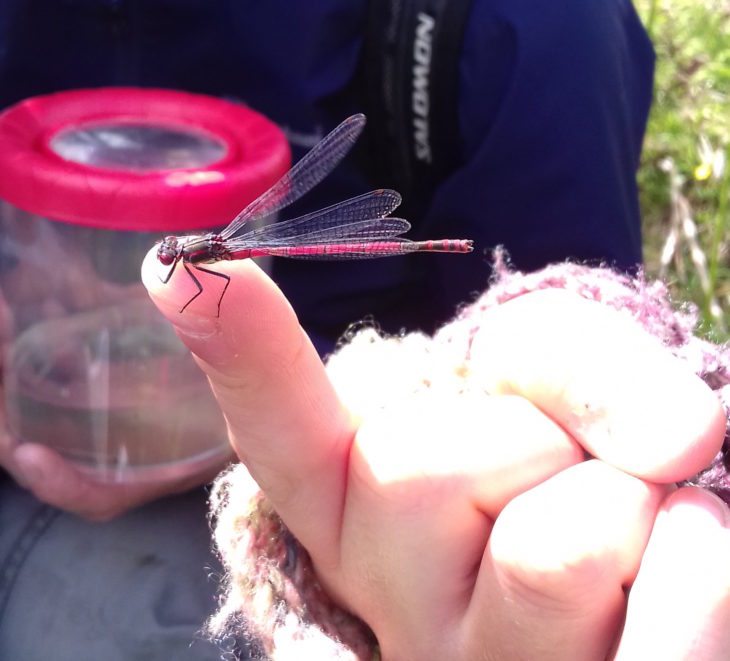 Butterfly surveying started in May with high numbers of green-veined white on the wing, alongside green hairstreak, peacock and a couple of orange tip. The sunshine during the last week of May brought out a few more species with small heath, speckled wood, red admiral, common blue and small pearl-bordered fritillary all being recorded. Within the last week we spotted our first large heath.
Other highlights include cuckoos calling throughout the island, long-eared owl chicks calling to be fed, short-eared owls being sighted more frequently, wood warbler, garden warbler and spotted flycatcher. Our whitethroats are still very vocal throughout the island and our grasshopper warbler was heard a couple of night's ago, so a good sign it is breeding here on Eigg. We also had a visitor to the Galmisdale tea room with a poplar hawkmoth resting on a window and then one appearing in our moth trap – amazing!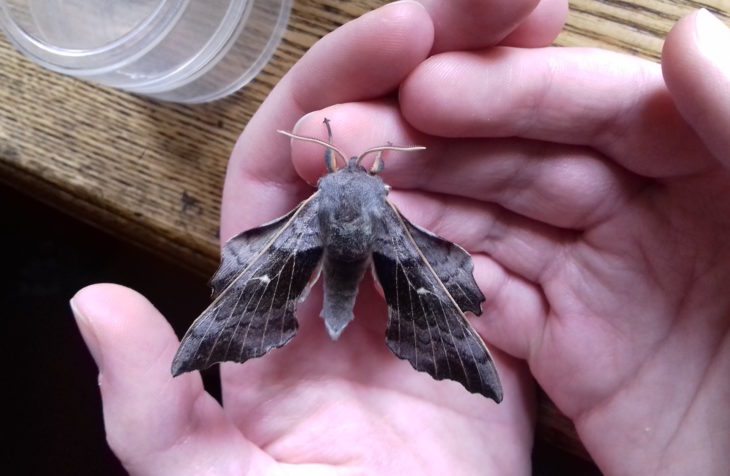 The highlight of June has been celebrating the 20th anniversary of the community buyout.  A programme of events and talks was organised for the buyout week, with it all finishing up with a Ceilidh last weekend. We will have an upcoming post about our guided nature walk that was carried out as part of the celebrations. To mark the anniversary a new wildlife and walking guide has been published by Scottish Wildlife Trust featuring a number of trails starting from Galmisdale Pier.  It highlights a selection of birds, plants and butterflies that can be found on the Island.
If you are out and about walking on Eigg please send your sightings to me at isleofeiggranger@scottishwildlifetrust.org.uk.
Gillian Gibson, Isle of Eigg Ranger
Help protect Scotland's wildlife
Our work to save Scotland's wildlife is made possible thanks to the generosity of our members and supporters.
Join today from just £3 a month to help protect the species you love.
---
Preface
It has been a busy couple of months here on Eigg with surveying and events now in full swing. May saw the start of the weekly guided nature walks where …