The life of a Seasonal Ranger at the Falls of Clyde
Whilst out on my patrols I regularly get asked what it is that a seasonal ranger does. I now realise that a seasonal ranger is not a common job title. So what better way to explain it then on here?
So I guess the best thing to do is explain what a seasonal job means. A seasonal job is a short term full-time contract. For my post at Falls of Clyde it is six months running from mid March to mid September but it is full time.
The job itself contains three key elements to it in order for it to provide enough work for a staff member. These are surveying, meeting visitors and carrying out practical tasks.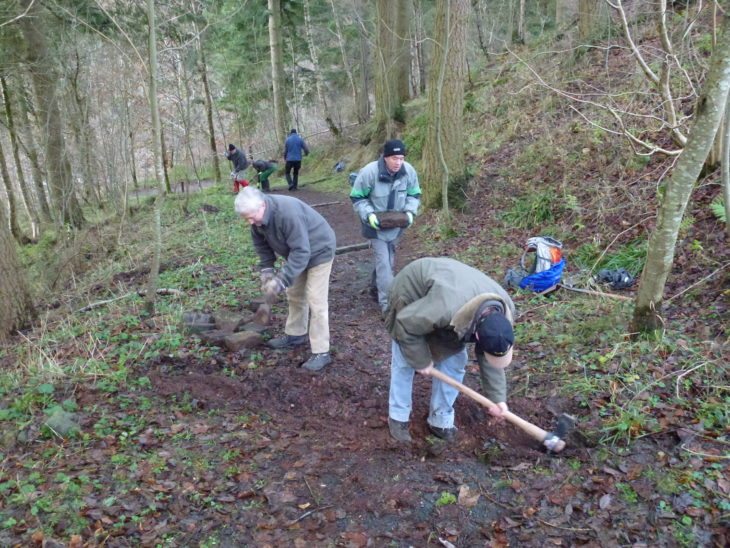 The first of the three is surveying, for this I carry out weekly nest box surveys, moth trapping, and butterfly transects along with monthly bee walks. The nest box surveys are to find out what birds are nesting in the boxes.
The second is the visitor engagement this includes regular patrols of the reserve, which also means making sure people know that the gorges water levels can rise and making sure everyone is safe. I also lead general guided walks and badger watches. Finally I also help out with other events such as our Family Woodland Adventures or birthday parties.
The final part is the practical work that I will be completing. This includes running volunteer work parties on Tuesdays where we complete tasks such as building our sand martin bank or putting in cross drains. As a conservation charity our volunteers are the life force of the organisation and without them we could not run. There is a great group of volunteers at the Falls of Clyde. The other section of this is working out on the reserve such as strimming along paths.
So I hope this explains what a seasonal ranger at the Falls of Clyde does. It is a great location with a huge variety of work to be carried out and no day is the same. I hope to see you all there!
Mike Butler – Falls of Clyde Seasonal Ranger, Scottish Wildlife Trust
Help support our vital work and join us today!
Help protect Scotland's wildlife
Our work to save Scotland's wildlife is made possible thanks to the generosity of our members and supporters.
Join today from just £3 a month to help protect the species you love.
---
Preface
Whilst out on my patrols I regularly get asked what it is that a seasonal ranger does. I now realise that a seasonal ranger is not a common job title. …