Is it wanderlust for FR3?
As we watch and wait for LF15's return to Loch of the Lowes, FR3 appears to be becoming increasingly restless.
Over the past few days our young satellite tagged osprey has been on a mini-excursion from his "home" on the Bulok bolon, exploring the north bank of the Gambia river.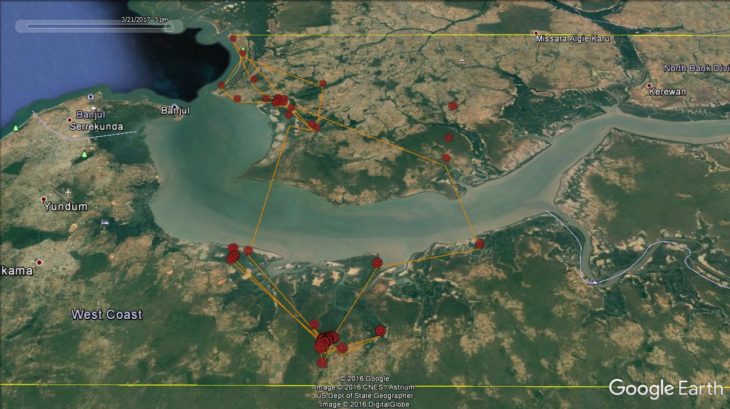 Setting out sometime after 11am on 18 March, FR3 initially headed in a north-easterly direction. By midday he had reached the south bank of the Gambia river, close to the Brefet bolon. From here he continued east for at least a couple more hours, covering a further 6 miles (10km), before crossing the river sometime later in the afternoon.
By 8pm that evening FR3 was roosting inland to the north of the Gambia river, near to the village of Sami Bajonkoto. It doesn't appear that he stayed in this area the following day though, as the next data point at 5pm on 19 March shows him 20km (12 miles) to the north-west, among mangroves to the south of Buniada.
The next 36 hours were spent exploring the inland creeks and coastal area between Essau, Ginak-Kajata and Bakalarr. This included a brief foray into the Niumi National Park (a designated RAMSAR wetland of international importance), which occupies the coastal strip in the very north of the country and forms the southern tip of the Sine-Saloum Delta.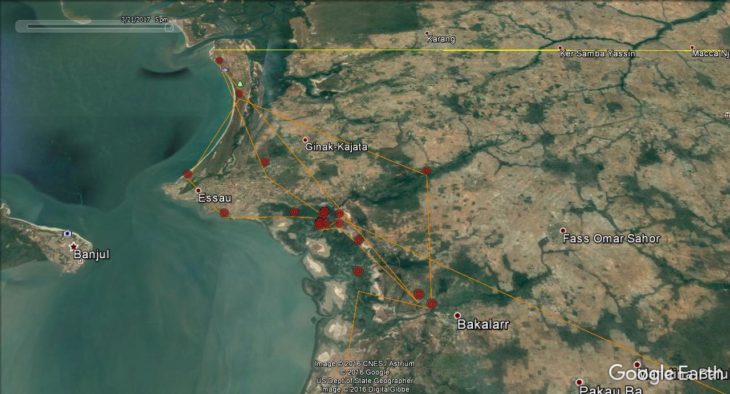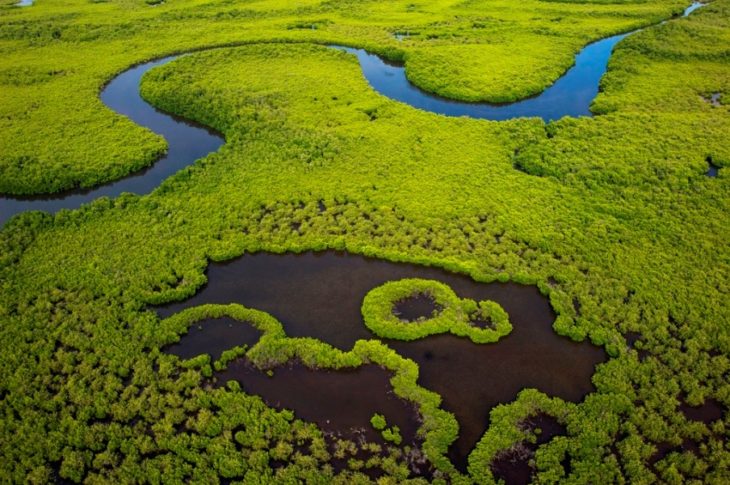 On the afternoon of 21 March FR3 began heading south and by 5pm was back in Bulok.
Was this a warm-up to a longer journey to come or will FR3 stay put over the coming months? We'll bring you news as soon as there's anything to report.
Tracking page update
We are aware that the tracking page on the new website still needs some work. Hopefully the extra features such as the total distance travelled, ability to view data in Google Earth and highlighting of the latest data point can be reinstated soon. In the meantime, to make it easier for you to identify the latest information for FR3, data points for this year are now shown separately to previous years.
Jonathan
Visitor Centre Assistant Manager
Help protect Scotland's wildlife
Our work to save Scotland's wildlife is made possible thanks to the generosity of our members and supporters.
Join today from just £3 a month to help protect the species you love.
---
Preface
As we watch and wait for LF15's return to Loch of the Lowes, FR3 appears to be becoming increasingly restless. Over the past few days our young satellite tagged osprey …