Can you tell a Brambling from a Chaffinch?
One of the Falls of Clyde volunteers emailed me a photograph earlier in the week of a brambling on his bird feeder next to a chaffinch. Once my jealousy had subsided (my newly erected deluxe window bird feeder is yet to have its first visitor), I grabbed my bird book to find out more about these Scandinavian beauties.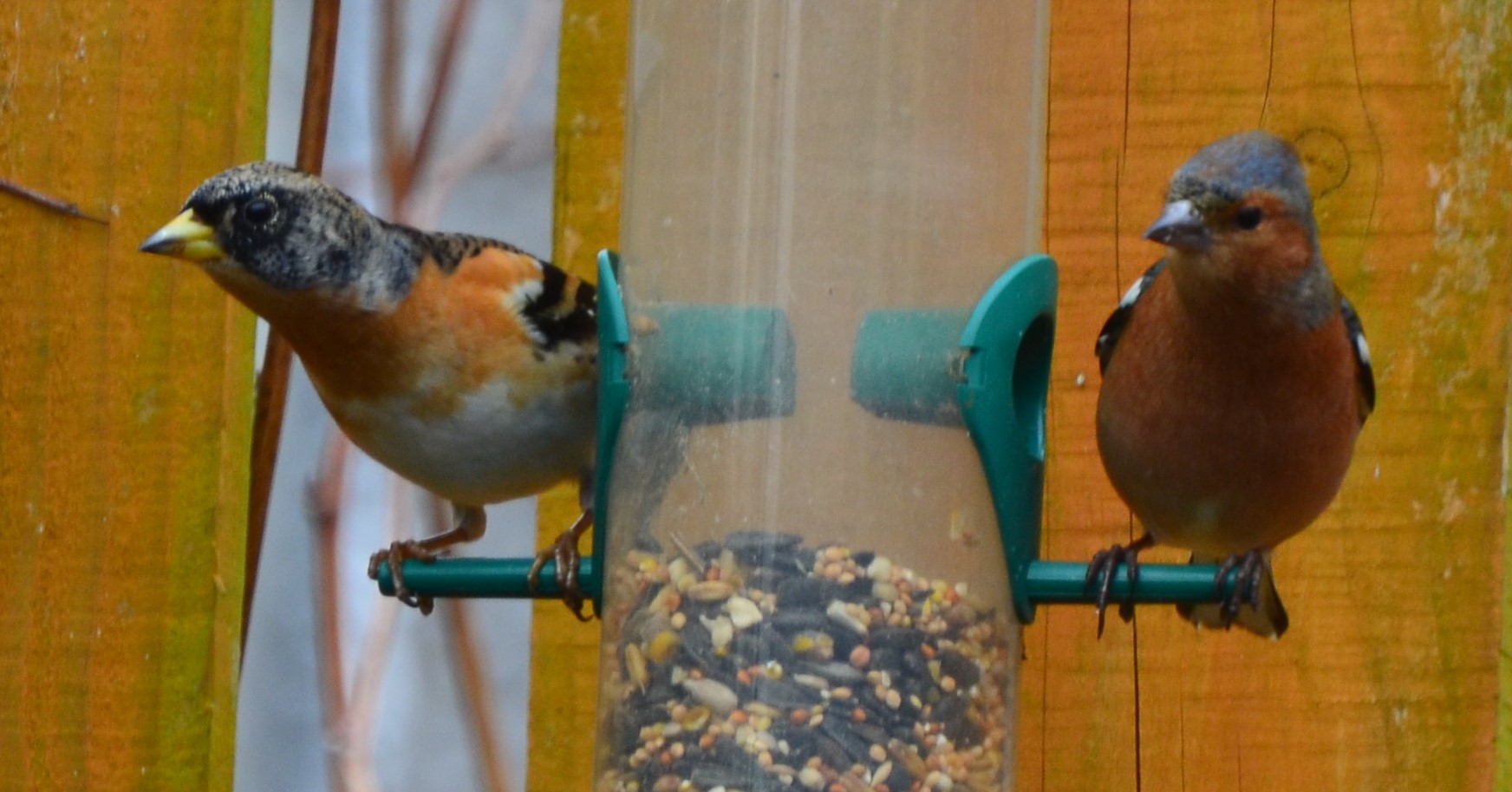 These rather shy birds can be found in Britain between October to April and they will often feed alongside chaffinches at our garden bird feeders. In some winters when beech mast is plentiful, enormous flocks of bramblings will gather en masse around beech trees.
As far as identification goes; they are the same size and shape as a chaffinch and they also share similar flight patterns, however all is not lost! Male winter bramblings have yellow bills compared to the chaffinches pinkish-grey. A chaffinch has a rusty-red breast which extends all the way underneath his body but the brambling has a very obvious white belly. The chaffinch has a lovely olive green rump and the brambling has a white rump which can be obviously seen in flight. Females have similar differences but they are duller in colour than the males. Other features to look out for are the white wing bars on both the male and female chaffinches which the bramblings don't have.
I don't want to bamboozle you any further but I did also find out that chaffinches have been known to hybridise with bramblings and vice versa and will be subsequently sterile. I'm not sure what the correct term for them is, 'bramble-finch' or 'chaffling' perhaps? Hybrids are extremely rare though. Other interesting birds that have been spotted in South Lanarkshire recently include Coue's Arctic Redpoll, Chiffchaffs (including a Siberian Chiffchaff), Blackcap and lots of Waxwings (which can often found in supermarket carparks).
Laura Preston – Falls of Clyde Ranger, Scottish Wildlife Trust
Help support our vital work and join us today!
Help protect Scotland's wildlife
Our work to save Scotland's wildlife is made possible thanks to the generosity of our members and supporters.
Join today from just £3 a month to help protect the species you love.
---
Preface
One of the Falls of Clyde volunteers emailed me a photograph earlier in the week of a brambling on his bird feeder next to a chaffinch. Once my jealousy had …