Call to arms for community help to clear up Jock's Burn in Carluke
The Clyde Valley community are being urged to roll up their sleeves in January and February and get behind a clean up of Jock's Burn.  The Clyde and Avon Valley Landscape Partnership are calling on people of all ages and backgrounds to come together and lend a hand to spruce up this little oasis of nature in Carluke.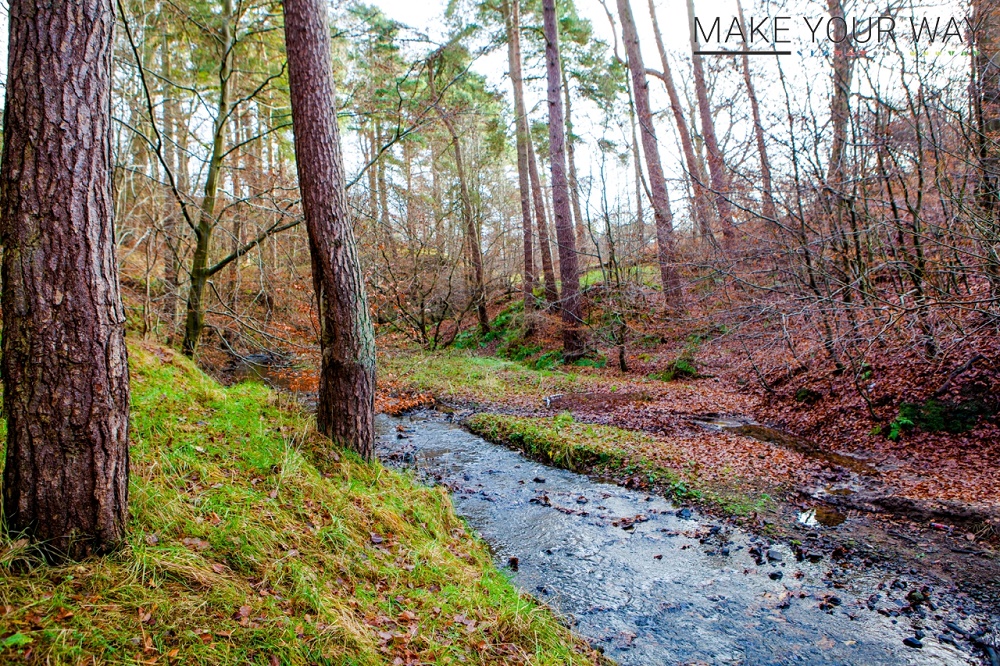 A range of different dates have been organised to allow as many community members as possible to join in – the sessions, listed below, will be managed by Clydesdale Community Initiatives (CCI) in partnership with Heritage Lottery Fund supported Clyde and Avon Valley Landscape Partnership (CAVLP).
The initial work will focus on de-littering, clearing debris from the burn, and tidying up and repairing steps.  South Lanarkshire Council will assist in completing some path repairs and safety measures.  The CAVLP Make Your Way arts, heritage and active travel campaign team will be putting on complimentary activities alongside some of the environmental volunteering activities to provide a great community buzz.
Jock's Burn is one of the few places in Carluke where people can experience a bit of nature, including residual ancient fauna that would have at one time cloaked the local area. The importance of Jock's Burn to the local community has been highlighted in community consultations and identified as a vital corridor for people to walk and cycle to work and school by the Make Your Way project. Popular with local dog walkers, it will soon be home to a new school orchard through a project with Central Scotland Green Network Trust (CSGNT), Carluke Development Trust (CDT) and 7 local primary schools.
Volunteers are asked to join the clean up and improvement sessions between 10:30am – 2pm on Tuesday 17 and Wednesday 18 January; Tuesdays 7 and 14 February and Wednesdays 1, 8, 15 and 22 February.
Bring your smartphones, tablets and recording devices along on Tuesday 17January and help record activities, memories and the local environment. On Wednesday 18 January, see Jock's Burn in a new light by joining the Make Your Way team for periscope view finding walks.
The Make Your Way project is also working with school children to highlight how Jock's Burn could be used for outdoor learning, as well producing maps and developing signage to highlight it as a local greenspace as part of a wider walking and cycling network.
Find out more and see what opportunities are available to schools and communities in Carluke, Glassford, Larkhall, Lanark and Stonehouse, by visiting www.clydeandavonvalley.org/make-your-way or contact them on myw@icecreamarchitecture.com / 07843 145 128.  The Make Your Way team offer FREE workshops on making dorodango mud dumplings, creative mapping, local place names and Citizen Journalism social reporting using smartphones and tablets.
"Getting involved in the volunteering days will be a tremendous help to continuing the regeneration of Jock's Burn for local residents," says Kirsten Robb, CAVLP Development Officer for the Make Your Way project.
She continues, "We know there have been problems with sewage in the burn, fly tipping in the woods and some anti-social behaviour, but it is actions like volunteering with CCI and engaging with Make Your Way project activities that let the community reclaim the woodlands as a safe and enjoyable place to walk, cycle and play."
Find out more and sign up to join in as many or as few volunteering sessions that you'd like with CCI by contacting 01555 664 211 / enquiries@cciweb.org.uk.
Read blogs about Jock's Burn and the Edgelands of Carluke by Make Your Way project photographer Mark Archibald at www.clydeandavonvalley.org/news.
Rebecca Crawford – Falls of Clyde Assistant Ranger, Scottish Wildlife Trust
Help support our vital work and join us today!
Help protect Scotland's wildlife
Our work to save Scotland's wildlife is made possible thanks to the generosity of our members and supporters.
Join today from just £3 a month to help protect the species you love.
---
Preface
The Clyde Valley community are being urged to roll up their sleeves in January and February and get behind a clean up of Jock's Burn.  The Clyde and Avon Valley …