How to tell the difference between cormorant and shag
Cormorant and shag are two similar looking closely related and frequently confused bird species. They are both black, reptilian-like, fish eating water birds that swim low on the water with their heads up tilted towards the sky. Both are diving birds and when resting can be found sat upright on rocks in their familiar spread-eagle pose.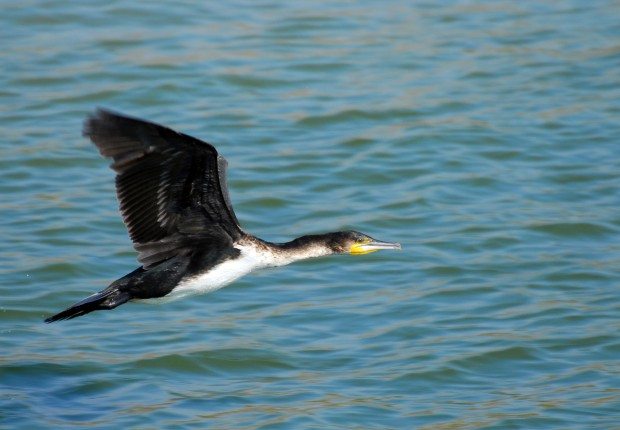 How can you tell them apart? Individuals out of context can confuse even the most experienced birders. Half of the world population of shag live in the UK and although there are less cormorants in the UK compared to shags, you are more likely to see them due to their distribution. Cormorants can be commonly found in land. We have cormorants visiting the Falls of Clyde reserve every autumn and they stay throughout the winter months, feeding along the River Clyde.
In terms of identification, cormorant have brown black feathers and in breeding plumage they are easy to identify with white patches on their thighs and under their chin. ID is certain if you see these features and any cormorant like bird inland can be positively identified as such. Cormorant are heavy birds and sit low in the water, with a wedge shaped angular looking head and heavy looking bill. They have striking green coloured eyes, pale feathering around the face with bare skin around the eyes. In flight they look pterodactyl-like, usually flying alone but sometimes in groups.
Shags are to be found along the coast, they are smaller, more slender bodied with a long slender bill and emerald eyes surrounded by feathers. Their plumage is black with a green gloss (less glossy out of the breeding season), wings tinged purplish with no white parts on its body. They have a smaller head, long neck and peaked forehead, which give a snake like impression. In the breeding season their peaked forehead sports a tufted crest.
Laura Preston – Falls of Clyde Ranger, Scottish Wildlife Trust
Help support our vital work and join us today!
Help protect Scotland's wildlife
Our work to save Scotland's wildlife is made possible thanks to the generosity of our members and supporters.
Join today from just £3 a month to help protect the species you love.
---
Preface
Cormorant and shag are two similar looking closely related and frequently confused bird species. They are both black, reptilian-like, fish eating water birds that swim low on the water with …