Can you remember what the weather was like three years ago?
Snow can be very contentious, everyone likes a bit of sunshine but poor old snow can divide families across the nation. Personally, I love snow, even if it does cause a bit of mayhem on the roads every now and then. On a dull winter day it is nice to be able to look out the window of a morning and have bright white snow looking back at you. I was reading my nature diaries from November 2013 and it was snowing back then as well. Can you remember what you were up to at this time three years ago?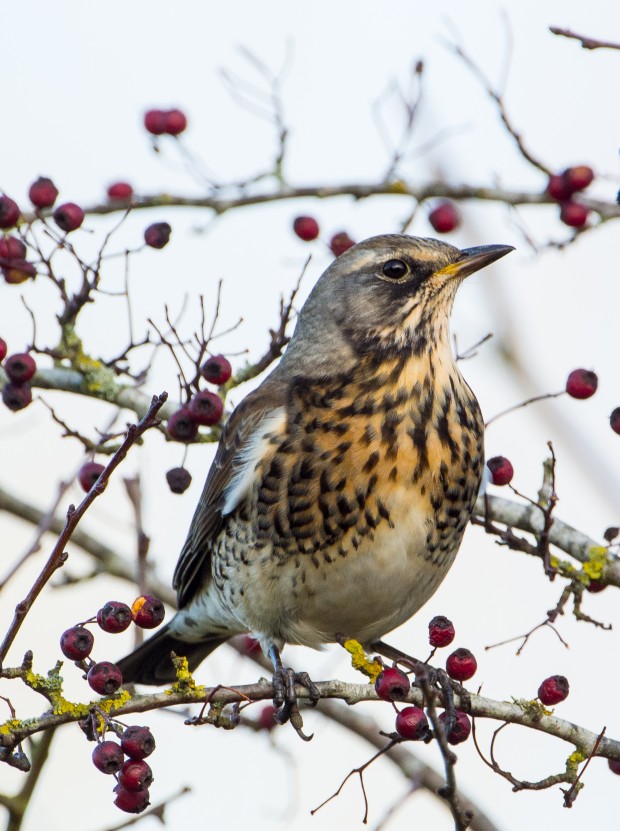 In November we have our Lantern Making Workshops and Parade through New Lanark. This year it will be this Saturday 12th November. The workshops are held throughout the day and the parade begins at 4.30pm. If you would like to book, there are still spaces left. You can book online at www.TheFallsOfClyde.eventbrite.com. We would love to see you there!
Interesting birds to look out for at the moment are the ones in the thrush family. Resident throughout the year are Mistle Thrush and Song Thrush however during the winter months we also have Fieldfare and Redwing coming across from Scandinavia. These two winter thrushes are easily told from each other. Redwings have a very distinctive red patch underneath their wings, whereas Fieldfares have an obvious grey head and upper body. However, Redwing can be confused with Song Thrush, whilst Fieldfare is similar in size and appearance to Mistle Thrush.
The British Trust for Ornithology or the BTO have released an excellent video on their website about how to identify them. I would highly recommend it, just follow this link. They are found here at the Falls of Clyde. I often see them in the meadow flying overhead.
Laura Preston – Falls of Clyde Ranger, Scottish Wildlife Trust
Help support our vital work and join us today!
Help protect Scotland's wildlife
Our work to save Scotland's wildlife is made possible thanks to the generosity of our members and supporters.
Join today from just £3 a month to help protect the species you love.
---
Preface
Snow can be very contentious, everyone likes a bit of sunshine but poor old snow can divide families across the nation. Personally, I love snow, even if it does cause …