Just another manic Monday
Another quiet autumn day at Loch of the Lowes I thought, when I arrived on Monday and looked out of the hide and across the loch. Rain was falling, mist rolling in – dreich indeed. The 'usual suspects' greeted me – by totally ignoring my presence – and I settled in to watch the swans, golden eyes, tufted ducks and great-crested grebes dabble and dive in front of the bird hide.
After an hour or so the rain stopped, the mist lifted, and a rainbow arched over the scene. Beautiful.
Just then a flock of birds appeared to the left of the osprey nest and headed straight for a berry-laden tree by the hide. The tree shuddered and trembled as the 50 strong flock landed on its branches and began to devour its riches. A mixed flock of red wing and fieldfare all the way from Scandinavia had just arrived! Seeing them so close up was a real treat. They seemed to be in a frenzy, hardly staying still at all, flitting from cluster to cluster picking off the ripe berries.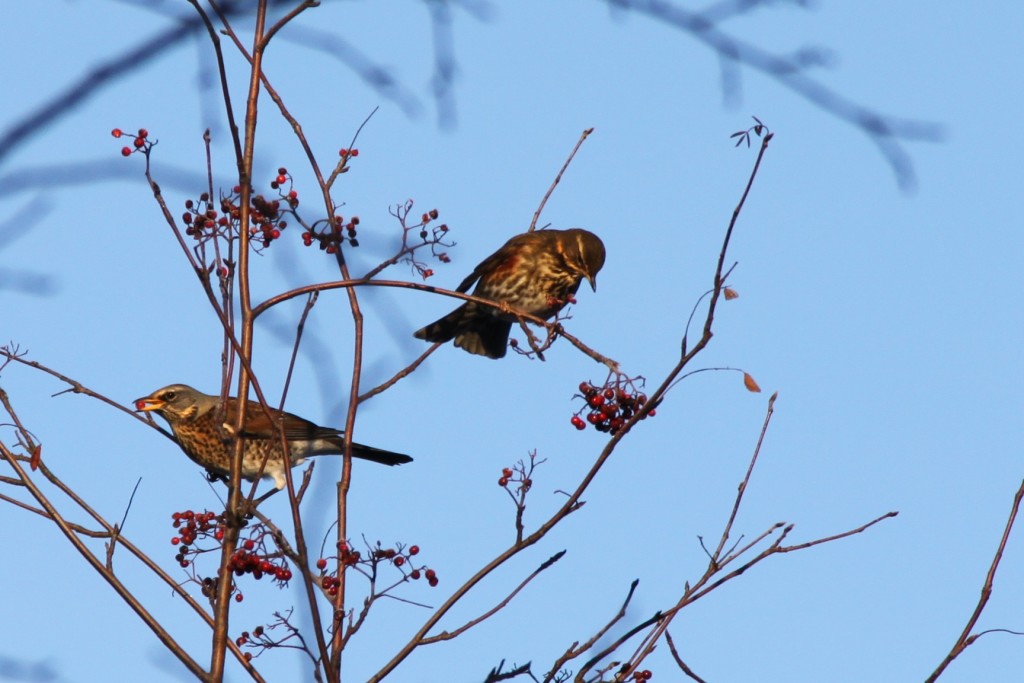 And then, just as quickly as they had arrived, they were gone, and another pulse arrived of similar size, followed by another – over 150 birds I reckoned (using my rather rusty bird-counting skills learned years ago from Bill Oddie!). Winter is definitely on its way.
I spent a contented hour or so watching the comings and goings on the loch and in the berry tree when suddenly the peace was shattered by a desperate shriek and rasping throaty call of a bird in distress. I looked across to the silver birch tree opposite the hide – favoured as a perch by our osprey family, and provider of many a branch for nest repairs – and there was a peregrine falcon in full flight dive bombing something hidden from view but perched in the tree.
Round and down again came the peregrine, to the desperate screams of the other bird. The peregrine swooped, flew up and around the headland out of sight, only to reappear and dive at its target once more. This was repeated several times, and each time the cry of the other bird sounded louder and more frantic. The nearest sound to its cries I had ever heard was of a crow being butchered by a hawk, but this was a deeper, more throaty sound, what on earth was it? Of one thing I was sure: if it came off its perch it was a goner!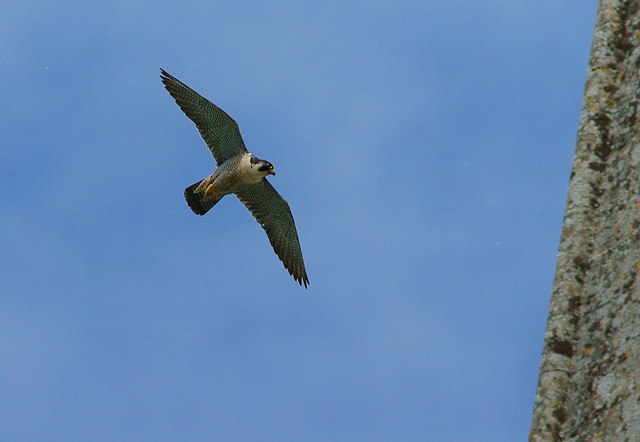 Suddenly another bird appeared over the tree line – a buzzard – and in an instant, it was all over. The beleaguered bird had been a buzzard and its desperate cries had attracted its mate who had flown in to help. The peregrine sized up the opposition and decided to call it a day, and flew off to another favourite perch of our adult male osprey, where it made itself comfortable and stayed all day, preening its feathers, getting ready for its next assault.
The buzzards disappeared over the tree tops – probably having got the message from the falcon – stay out of this area, it is mine……..until March that is, when the ospreys return and may have something to say about that!
Alwyn Ferguson – Volunteer Guide in the Hide
Help protect Scotland's wildlife
Our work to save Scotland's wildlife is made possible thanks to the generosity of our members and supporters.
Join today from just £3 a month to help protect the species you love.
---
Preface
Another quiet autumn day at Loch of the Lowes I thought, when I arrived on Monday and looked out of the hide and across the loch. Rain was falling, mist …