A cacophony of calls near Corra Castle
Our team of hard-working volunteers were doing some path scraping on the Corehouse side of the river recently. After the wet weather we had not long ago, the paths had become wet and muddy underfoot in places. Hopefully now the paths should be much more pleasant to work on!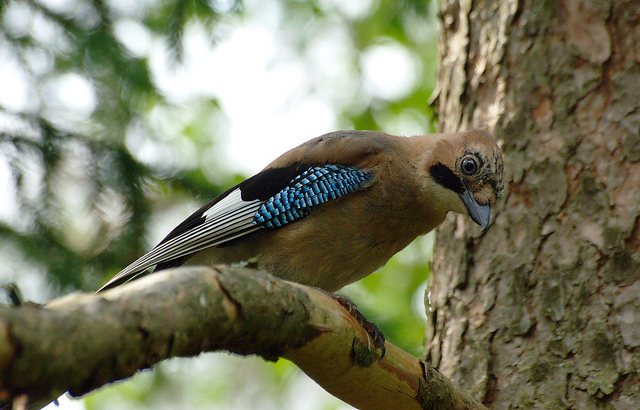 Although we were working hard, we still managed to see some wildlife. Our work was first interrupted by some very loud, croaky calls. We squinted through the trees to see the culprits – jays! It's not every day we get to see a jay, so that was quite exciting. There were actually four of them, and it seemed that one pair was having a bit of a squabble with the other pair. Eventually the losing pair was chased off upstream and the other pair returned to their perch, victorious.
We also saw a dipper very close to the jays, calling loudly to add to the cacophony. Maybe the dipper was shouting at the jays to pipe down!
As if we hadn't had enough drama for one day, we were taking a break to eat our lunch when we heard other birds start to call. At least two birds with high-pitched calls were hiding in the canopy close to us. They were sparrowhawks! Perhaps their presence explained why it went quiet all of a sudden…
As a bonus to our bird sightings throughout the day, we found a skull next to the path, which we believe to be a goldcrest skull. The goldcrest and firecrest are, together, the UK's smallest birds. As you may have guessed, the goldcrest has a bright yellow crest on its head, with a more orange crest on that of the firecrest.
It was wonderful to see such different species together in the reserve – a sure sign that wildlife is thriving here.
 
Sarah Cooper – Seasonal Ranger, Scottish Wildlife Trust
Help support our vital work and join us today!
Help protect Scotland's wildlife
Our work to save Scotland's wildlife is made possible thanks to the generosity of our members and supporters.
Join today from just £3 a month to help protect the species you love.
---
Preface
Our team of hard-working volunteers were doing some path scraping on the Corehouse side of the river recently. After the wet weather we had not long ago, the paths had …