Weather, wildflowers and winged insects
What a week of weather! Rain, sunshine and some pretty dramatic thunder and lightning. I suspected that, after copious amounts of sun and rain, the plant life along our Wildflower Trail would happily growing with gusto and producing more lovely flowers.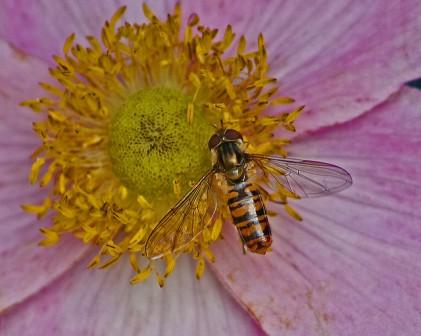 As it happens, we have extended our Wildflower Trail so that it now follows the boardwalk and continues up to the power station. It's well worth following the trail to the end, to see a brilliant display of common spotted orchids and other wildflowers.
What is good news for flowering plants is, of course, good news for our pollinating insects. I was happy to see plenty of butterflies, bees and other pollinators such as hoverflies on my recent butterfly survey. Hoverflies are a somewhat overlooked group of insects and many people mistake them for wasps, avoiding them at all costs. There's no need to worry, though – hoverflies don't sting. They mimic the yellow and black stripes of wasps to put off predators such as birds.
Hoverflies are actually a great thing to have in your garden. In addition to being great pollinators, their larvae feed on aphids and other garden pests. They're great to watch, too; male hoverflies will hold a territory and will defend it against other males. This results in some fast-paced aerial dog-fights – it can be tricky to see who has won! You can tell male from female by looking at the eyes. The male has eyes which meet in the middle, whereas the female has a gap between her eyes.
The species you're most likely to see in your garden, or at Falls of Clyde, is the Marmalade Hoverfly (Episyrphus balteatus). Look for a black moustache shape under each black stripe.
P.S. – There are still spaces on our Butterfly Net Workshop this weekend – visit http://www.eventbrite.co.uk/o/scottish-wildlife-trust-falls-of-clyde-8800240469 to find out more!
Sarah Cooper – Seasonal Ranger, Scottish Wildlife Trust
 
Help support our vital work and join us today!
Help protect Scotland's wildlife
Our work to save Scotland's wildlife is made possible thanks to the generosity of our members and supporters.
Join today from just £3 a month to help protect the species you love.
---
Preface
What a week of weather! Rain, sunshine and some pretty dramatic thunder and lightning. I suspected that, after copious amounts of sun and rain, the plant life along our Wildflower …