Volunteers sought to explore historic Clyde Walkway
Help record forgotten archaeology and stories between Larkhall, Law and the historic Clyde Walkway this summer by volunteering with Clyde and Avon Valley Landscape Partnership (CAVLP) Heritage.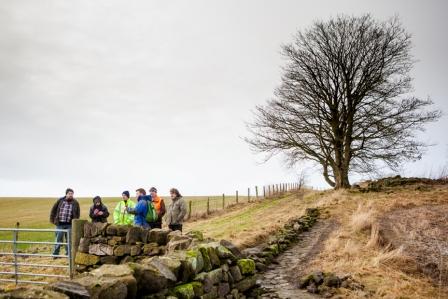 The pathways pass a variety of historic sites and archaeology from mining heritage along the Monkey Road and Skellyton Farm, to the designed landscape of the long since demolished Mauldslie Castle. Research will be uploaded to the Clyde and Avon Valley Museum, for all to explore and enjoy at www.clydeandavonvalley.org.
Taking place in June and July this year, the project is connected to the Clyde Walkway Community Links project that has improved paths linking the communities of Rosebank, Ashgill, Dalserf, Larkhall, Law, Crossford, Nemphlar and Braidwood with the Clyde Walkway. Although the initial part of the project focusses on Larkhall, Law and the Clyde Walkway, CAVLP Heritage hope that training offered will allow volunteers to research and record other sites on their own accord thereafter.
Volunteers of all ages and abilities are being asked to get involved in the project which provides them with FREE training including photography, archaeological survey, oral history recording, creative map making and reporting during a number of sessions, dates as below.
"By focusing our volunteer opportunities on these improved paths we will be able to explore the archaeology of parts of the landscape that are now more easily accessible thanks to Community Links project. We hope that by working alongside volunteers to record the important archaeology along these routes, visitors to the Clyde and Avon Valley will gain a richer experience and see how the past has shaped the landscape we use and enjoy today," explains CAVLP Heritage Officer Dr Paul Murtagh.
He continues, "By helping us record the archaeology along the paths, helping us to photograph the interesting places along them and capturing people memories of working and living in the area, volunteers will be actively contributing to the experiences of the communities that use and enjoy the upgraded Community Links paths."
The FREE archaeological training is part of a wider project, Capturing the Past, which is funded by the Heritage Lottery Fund supported Clyde and Avon Valley Landscape Partnership (CAVLP) and Historic Environment Scotland, and managed by Northlight Heritage. The project seeks to research and record a variety of local sites of archaeological interest, so there are a plethora of opportunities to get involved in numerous sites of archaeological interest throughout the Clyde and Avon valleys. Sites researched so far include Hoolet Row at Chatelherault Country Park, St Ninian's Kirkyard in Stonehouse and McIvor's Bedding Plants in Craignethan Glen.
Donna Marshall, CAVLP Programme Manager explains, "this is a fantastic opportunity for people interested in getting involved in local history and heritage. No matter how much or little time you are able to contribute, we are urging people to sign up and help us uncover the stories of the landscape that make the Clyde and Avon valley unique."
A series of FREE, hands-on learning opportunities relating to the historical working lives of people in the Clyde and Avon valleys are also available from the CAVLP Heritage team and run concurrently with the Capturing the Past project until August. Tasting Through Time, Sheep to Shawl and Brick by Brick courses explore the agricultural, horticultural and industrial heritage unique to the area. Designed to fit in with the Curriculum for Excellence, Duke of Edinburgh and John Muir Awards as well as Badge Activities for Guides, Scout and the Boys and Girls Brigade, courses can be tailored to meet the needs of any age group and ability and can last between 2 to 4 hours.
When to get involved:
Research Workshops: find out how to use old maps, photographs and documents to build a picture of the archaeology along each of the Community Links paths before going into the field to survey them.
Thursday 9 June, 18.30-20.30, Larkhall District Volunteer Group Centre
Tuesday 28 June, 18.30-20.30, Tom Craig Centre, Law
Archaeological Survey: walk along each of the Community Links paths to look for and record each of the archaeological sites.
Sunday 12 June, 11.00 – 16.00, Monkey Road
Wednesday 15 June, 18.30-20.30, Monkey Road
Wednesday 29 June, 18.30-20.30, Law to Mauldslie
Saturday 2 July, 11.00-16.00,  Law to Mauldslie
Archive Research: Delve deeper into the history of the places and sites along the paths by searching through historical archives.
Tuesday 14 June, 10.30-12.30, Hamilton Archives
Tuesday 5 July, 10.30-12.30, Hamilton Archives
Reporting Workshops: Compile the research and upload it to www.clydeandavonvalley.org, so that anyone can explore and enjoy the amazing archaeology there is along the Community Links pathways.
Tuesday 21 June, 18.30-20.30, Larkhall District Volunteer Group Centre
Tuesday 5 July, 18.30-20.30, Tom Craig Centre, Law
Adults, children and families all welcome. FREE. For more information and to book a place, call 01555 661555 or email Paul and Karen at cavlp.heritage@hmail.com
Clyde and Avon Valley Landscape Partnership
www.clydeandavonvalley.org
Help protect Scotland's wildlife
Our work to save Scotland's wildlife is made possible thanks to the generosity of our members and supporters.
Join today from just £3 a month to help protect the species you love.
---
Preface
Help record forgotten archaeology and stories between Larkhall, Law and the historic Clyde Walkway this summer by volunteering with Clyde and Avon Valley Landscape Partnership (CAVLP) Heritage. The pathways pass …