What's bigger than a buzzard, does barrel rolls in the sky and makes a 'klong' noise?
This week on the reserve our ravens have been giving us a real show. Ravens begin their courtship from February and on Monday we saw them following each other up the gorge above Corra Linn and then land on the cliff face just before the peregrine watch site. They stayed there for a while and were often calling to one another. This is a very good sign that they are looking to nest in this area. In the past they have attempted to breed on the reserve but disturbance from people (and possibly the peregrines) has made any attempts unsuccessful.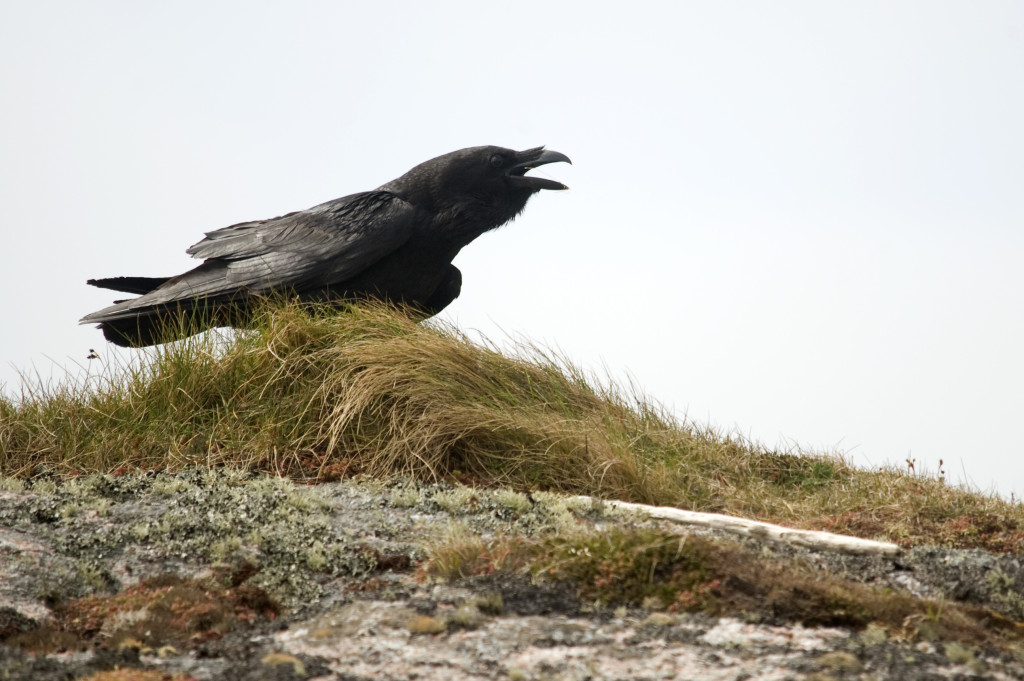 Ravens pair for life and if you remember last year, at the end of summer, I saw a pair preening one another near Corra Linn. Their call is a very distinctive 'korrp' sound and their alarm sounds like 'krack-krack-krack'. At this time of year however you might also hear other noises such as clucks, a 'klong' and pops. Definitely something to be aware of if you are out for a walk and hear strange noises overhead!
They have been spending a lot of time flying up and down the gorge and I have seen them in a variety of places. They are bigger than buzzards and have a wedge-shaped tail, so keep your eyes peeled. Following courtship which consists of posturing, mutual preening and beak caressing, the pair will make a solid nest of sticks lined with mud and moss. They will lay four to six blue-green eggs and the young that hatch will tend not to disperse more than 20 miles from where they were born. They are incredibly playful and it's fun to watch their aerial displays so I hope next time you visit the Falls of Clyde, you get to see them!
Laura Preston – Scottish Wildlife Trust, Falls of Clyde Ranger
Help support our vital work and join us today!
Help protect Scotland's wildlife
Our work to save Scotland's wildlife is made possible thanks to the generosity of our members and supporters.
Join today from just £3 a month to help protect the species you love.
---
Preface
This week on the reserve our ravens have been giving us a real show. Ravens begin their courtship from February and on Monday we saw them following each other up …