Osprey Tracking Update – 4th February 2016
FR3
It's been business as usual over the past week for FR3, who shows no inclination to travel beyond the immediate vicinity of Bulok (The red points and orange lines indicate new activity while the purple lines are historic data).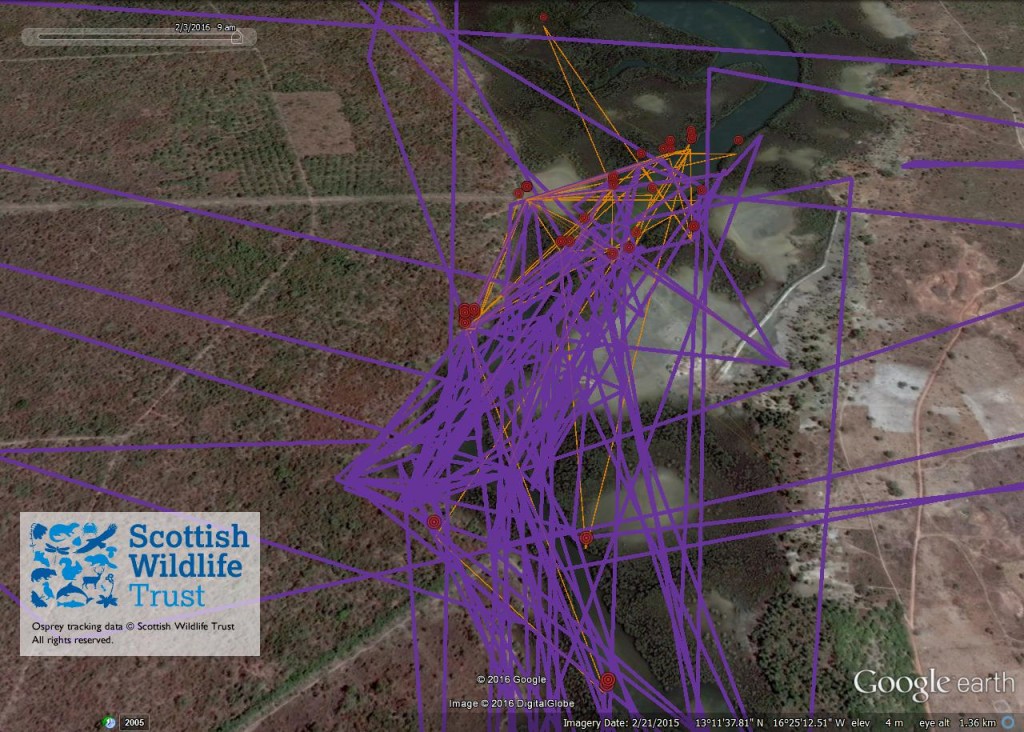 My internet searches up till now had failed to provide me with much information about Bulok, except that it is a small town in the Brikama Division of south-western Gambia.
However this morning I came across this video on YouTube, relating to an agricultural and environmental development project that Bulok has apparently benefited from.
The "Participatory Integrated Watershed Management Project" (or PIWAMP for short), ran initially from 2005-2010 (later extended to 2014) and was funded by the Government of the Gambia, the Nigeria Trust Fund and the International Fund for Agricultural Development (IFAD). The project's aims were to address the challenges of low agricultural productivity and environmental degradation such as: loss of soils through wind and water erosion, declining soil fertility, loss of vegetation cover and increasing vulnerability to drought. By developing community watershed management plans in collaboration with villages, they hoped to increase the income of poor rural communities whilst ensuring better management and development of the natural resources.
The video shows a drainage dyke in Bulok, created by PIWAMP to divert water away from the village and into a tributary of the Gambia river. Prior to the construction of the dyke a road which runs through the village was being badly eroded, villagers homes undercut and adjacent land routinely flooded.
FR4
As much as I would like to be able to give you some positive news about FR4 unfortunately I can't. We have received no data now for over a month and realistically this isn't likely to change. Tim Mackrill from the Rutland Osprey Project was kind enough to put us in touch with a ranger contact of his who works in Senegal. The remoteness of FR4's last location makes mounting a search difficult, but they have said they will do what they can and let us know if they have any information.
We will let you know if and when there is anything to report, good or bad.
Jonathan
 
Help protect Scotland's wildlife
Our work to save Scotland's wildlife is made possible thanks to the generosity of our members and supporters.
Join today from just £3 a month to help protect the species you love.
---
Preface
FR3 It's been business as usual over the past week for FR3, who shows no inclination to travel beyond the immediate vicinity of Bulok (The red points and orange lines indicate new …