New Year, New You? Volunteering in the Valleys
Get fitter, get out and about or learn a new skill. If any of these sound like your new years' resolutions for 2016, then look no further than the volunteering opportunities available through Clyde and Avon Valley Landscape Partnership (CAVLP) associated projects.
Whether you like to keep your hands clean or get dirty, be indoors or out, there's a volunteering opportunity for you in the Clyde and Avon valleys! Opportunities are available for all ages and abilities and can be flexible to suite on your time commitments.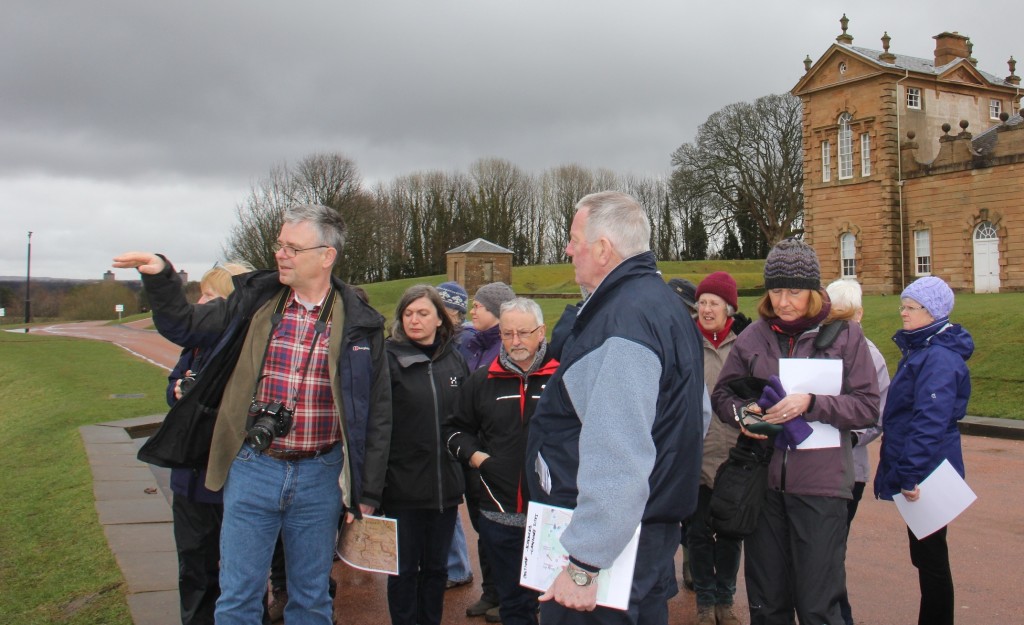 Clydesdale Community Initiatives (CCI) offer free environmental training and volunteering. Join them to repair paths, plant trees and flowers, build fences and more, from Falls of Clyde to Dalzell Estate. Help conserve the wonderful local natural environment and learn new skills, get out into the fresh air and meet new friends whilst doing so. Take a look at the online calendar to see what's coming up and for booking information:
www.clydeandavonvalley.org/events.
If you love nothing more than a historic mystery, CAVLP Heritage are looking for volunteers to research the many lesser known historic sites of the Clyde and Avon valleys, starting with 'Hoolet  Raw' at Chatelherault Country Park in January. They're looking for volunteers in map, place name and archival research, archaeological surveys and digitisation. Novice or a pro, get in touch with Paul or Karen at cavlp.heritage@gmail.com / 01555 661 555 to find out how you can help unearth the hidden stories of the historic valleys.
The Glorious Gardens team also need help in unlocking the secrets of the old Clyde valley Estates. Learn or put to use existing historic landscape research and surveying skills, in finding out more about the numerous designed landscapes in the local area which are in danger of being lost forever. If you like the sound of learning new skills, exploring the landscape from the archives as well as on foot and meeting new people while you're at it, contact Lorna on linnes@yorkat.co.uk / 0845 901 1142.
Media moguls and office administration volunteers are required by the CAVLP team to help report on and administer the projects they deliver that celebrate the local landscape, heritage and people. This can include putting journalistic, photographic or video production skills to use in reporting on projects out in the landscape, helping maintain the CAVLP website and social media channels, or being a CAVLP ambassador- helping share our news on social media or distributing our quarterly newsletter to local shops, groups, schools and other community hubs. Get in touch at info@clydeandavonvalley.com / 01555 663 430.
Perhaps you have a passion for a specific site in the Clyde and Avon valleys and want to dedicate your volunteer time exclusively to it – check the details below:
New Lanark, contact Evelyn.whitelaw@newlanark.org for general volunteering opportunities or Miranda.lorraine@newlanark.org for opportunities to get involved in the Double Row restoration project. Call the office on 01555 661 345.
North Lanarkshire Council managed sites including Dalzell Estate, contact Helen Boyle boyleh@northlan.gov.uk / 01698 402090.
RSPB Baron's Haugh, contact Stephen baronshaugh@rspb.org.uk / 0141 331 0993.
Scottish Wildlife Trust Falls of Clyde, call the office on 01555 665 262.
South Lanarkshire Council managed Chatelherault and Mauldslie woodlands, call 0303 123 1020.
Heritage Lottery Fund supported CAVLP is funded until 2018 to deliver a range of over 70 projects which celebrate the unique and diverse natural and cultural landscape of the Clyde and Avon valleys.
Donna Marshall, CAVLP Programme Manager explains, "Strengthening the connection between people and place is at the heart of all CAVLP projects. Volunteering is a huge part of this programme and we urge people of all ages and abilities to get involved. It's a great way to learn new skills, get fitter and explore the local landscape whilst making a valuable contribution to local environmental and cultural assets."
"We've had great feedback from volunteers who are already volunteering with CAVLP projects," says Kirsten Robb, CAVLP Development Officer.
"An evaluation of last years' CCI projects showed that volunteers felt that their confidence, fitness and satisfaction grew greatly from learning a new skill."
What are you waiting for? Nail those new years' resolutions and make a big difference to your local community whilst you're at it.
Get in touch at info@clydeandavonvalley.com / 01555 663 430 / www.clydeandavonvalley.org/our-people/volunteer
Help protect Scotland's wildlife
Our work to save Scotland's wildlife is made possible thanks to the generosity of our members and supporters.
Join today from just £3 a month to help protect the species you love.
---
Preface
Get fitter, get out and about or learn a new skill. If any of these sound like your new years' resolutions for 2016, then look no further than the volunteering …