What's that big black bird?
A question asked by 8 year old John.
That, young John, is Phalacrocorax Carbo. Or more commonly known as – a Cormorant.
John's beautifully simple description aside, how else would one recognise a Cormorant?
It is semi-aquatic, meaning that it is most often found by water, along coasts, estuaries, or sand banks. On Montrose Basin, they are often seen at high tide on Rossie spit, and are easily distinguished from other common residents, such as Oystercatcher, Redshank and Wigeon.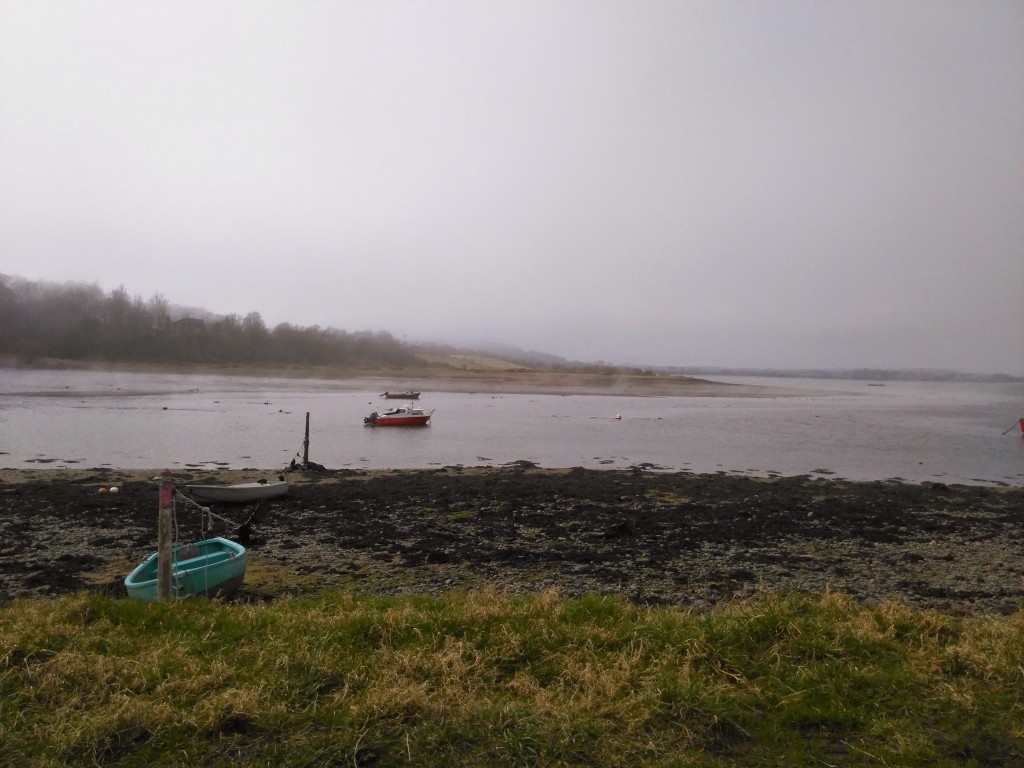 Cormorants sit low in the water, with their heads raised regally. Excellent divers, they dive under the water, without a prior look into the water below. It's been found, that Cormorants can reach depths up to 45m in search of food, such as fish and eels.
One of the Cormorants most recognisable behaviours, is their characteristic crucifix stance. They are not alone in doing so, with companions elsewhere such as Brown and White Pelicans, some storks, herons, vultures, and hawks (Ehrlich, 1988).
Why do they do this?
Great question John. The prevailing theories suggest the stance is an energy saving technique.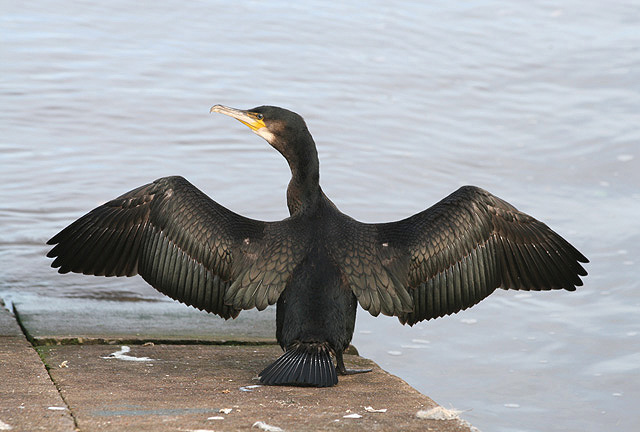 Cormorants lack the water resistant properties that many other aquatic birds possess, and therefore must dry their wings. It requires large amounts of energy for a Cormorant to regulate its body temperature in order to dry its wings. For this reason, it is thought that cormorants use nature's hand-drier – the wind. The wind compensates for the cormorant's lack of water resistance, drying residual water from the birds' plumage.
Other theories suggest that the crucifix stance assists food digestion. The stance increases the exposure of the bird's front to the sun. Digestion requires energy, and it is thought that the heat absorbed from the sun reduces the amount of heat required to be generated by the bird itself.
Wait, is that a Cormorant or a Shag?
Excellent question John. These two black, aquatic birds can be easily be mistaken for one another. However, certain indicators of identity can aid the distinction between the two.
Firstly – but only helpful if standing next to one another – the Cormorant is much bigger than Shag.
There is slightly more white found on the Cormorants plumage, primarily around the face, and a patch above the legs. Both juvenile Cormorants and Shags have white fronts, and therefore other indicators are needed to aid distinction. Cormorants always have black feet; Shags have pale coloured feet until adulthood.
The variation in head shape is a key indicator. While a Cormorant has a relatively streamlined beak to head, a Shag has a raised eyebrow or peaked crown. During courtship, Cormorants raise a tuft to rear of their head, while Shags raise the tuft at the front.
The Cormorant's beak is thick, with a light grey colour, and a yellow patch at the base. Shag's have a more slender beak, with black upper mandibles, and a far more distinct yellow on the lower mandible.
Finally, a more detailed difference is that Cormorants lack the green tinge of adult Shags.
Now John, if you have any more questions, you know where to go don't you? Check out the Montrose Basin Visitor Centre. I hear its a pretty swell place.
 
Benedict George Murray, Visitor Centre Assistant
Reserve maps can be obtained from the Visitor centre or here http://bit.ly/1LYFzJ9
As of 1st November, the Visitor Centre will be opened Friday, Saturday and Sunday only, from 10.30am – 4.00pm until 29th February, 2016.
Reserves and hides will remain accessible 24 hours a day, 7 days a week.
Help protect Scotland's wildlife
Our work to save Scotland's wildlife is made possible thanks to the generosity of our members and supporters.
Join today from just £3 a month to help protect the species you love.
---
Preface
A question asked by 8 year old John. That, young John, is Phalacrocorax Carbo. Or more commonly known as – a Cormorant. John's beautifully simple description aside, how else would one recognise …