Osprey Tracking Update – 19th November 2015
Both of our young ospreys have been relatively active over the past week, particularly FR4 who having travelled all the way to Guinea-Bissau the previous week has promptly returned to the Gambia!
FR3 spent the first few days of last week continuing to move between the bolongs (creeks) beside the villages of Bulok, Sutu Sinjang and Ndemban. Sometime after 10am on 14th November our young osprey began heading SW from Ndemban and by 2pm was 26km (16 miles) away in scrub woodland on the banks of the Diouloulou River (a distant tributary of the Casamance) in Senegal.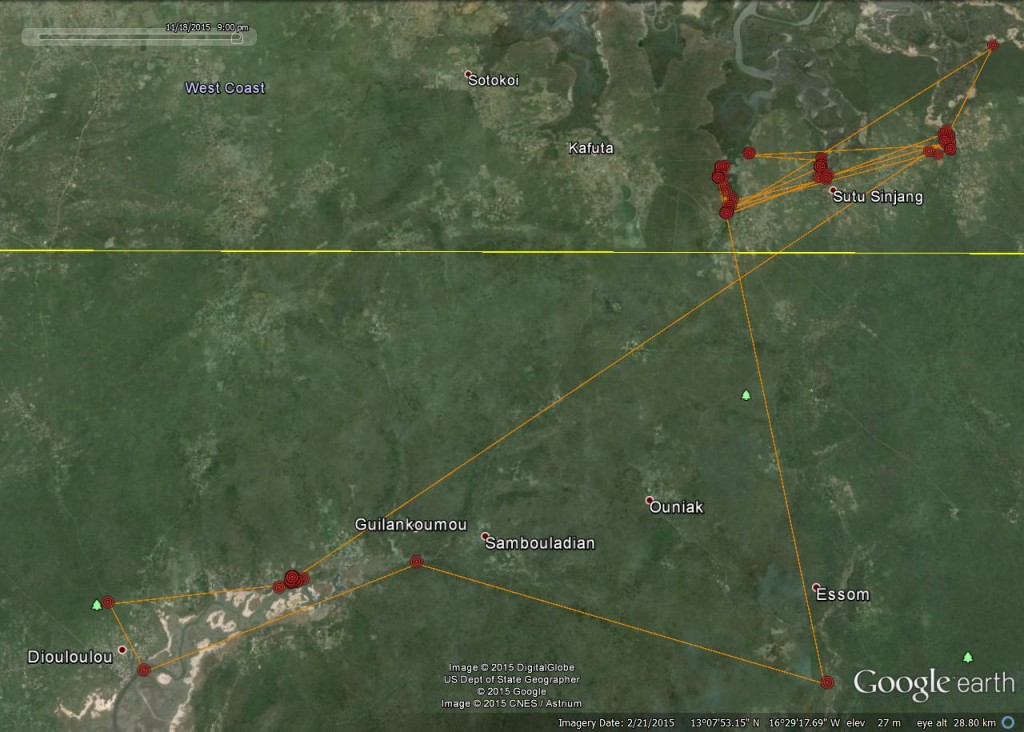 FR3 doesn't appear to have travelled far on the 15th but the following day between 10 and 11am headed further west towards the town of Diouloulou. This photo of the riverside near Diouloulou gives you an idea of what the area is like. Our young osprey then changed course after 12pm and flew east towards Guilankoumou, Sambouladian and Essom, before turning north in the direction of the Gambia. FR3 was back in Sutu Sinjang by 5pm, remaining there until the end of the 18th.
 
Meanwhile, between 10th and 14th November FR4 completed the second half of a 600km (373 mile) loop around the Gambia, Senegal and Guinea-Bissau.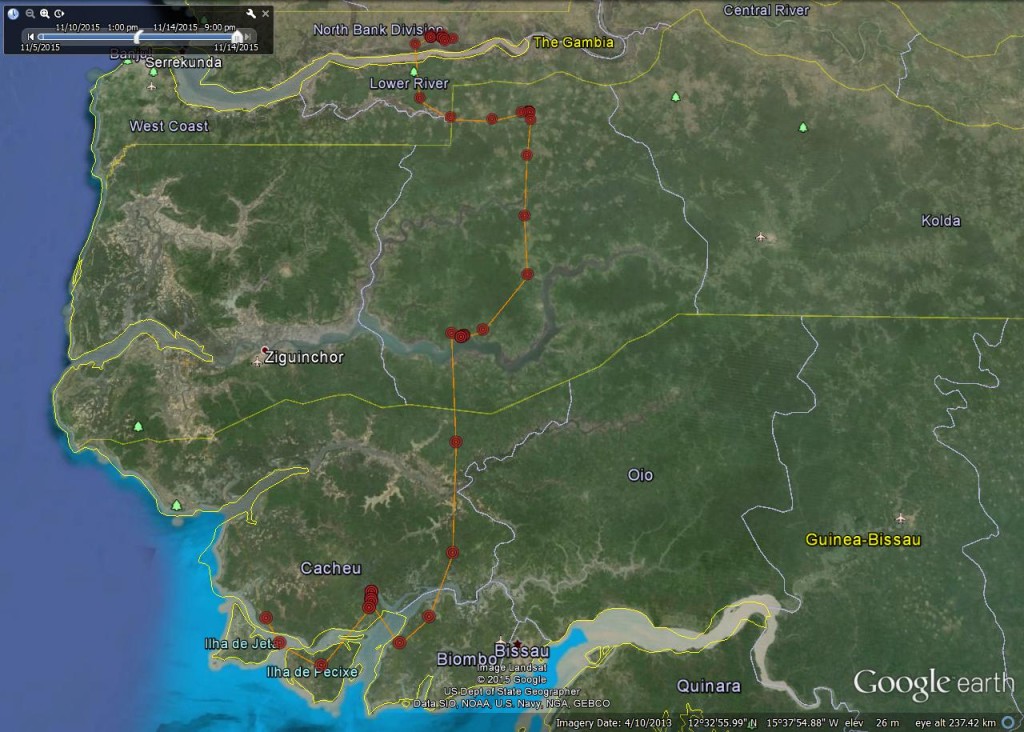 As you may remember from the last update, we were missing some of the data for the 10th as our young osprey skirted along the coast of the Cacheu region of Guinea-Bissau. We now know that FR4 ventured out onto the Ilha de Jetta and Ilha de Pecixe – two low lying islands just off the mainland. Here's a photo of a beach on the Ilha de Jeta – looks pretty idyllic!
On the 11th, FR4 travelled upstream beside the Mansoa River for about 20km (12 miles) before heading north towards Senegal. Crossing over the border into Senegal between 3 and 4pm, our young osprey roosted for the night on the north bank of the Casamance River, 56km (35 miles) east of Zinguinchor.
FR4 continued northwards for a further 80km (50 miles) over the course of the following day. On the 13th our young osprey flew west towards the Senegal-Gambia border, crossing into the Lower River region shortly before 12pm. From here FR4 headed north and within a couple of hours was back at the Baobolon Wetlands where the journey had began a fortnight previous!
To view all the data for yourselves visit our tracking page or login to Google Earth using the instructions provided.
Jonathan
Help protect Scotland's wildlife
Our work to save Scotland's wildlife is made possible thanks to the generosity of our members and supporters.
Join today from just £3 a month to help protect the species you love.
---
Preface
Both of our young ospreys have been relatively active over the past week, particularly FR4 who having travelled all the way to Guinea-Bissau the previous week has promptly returned to the …