Hi,
Over the last few months the Falls of Clyde Ranger Team have been busy putting up a number of small tit boxes in the woodland. Last week saw the addition of two rather special nest boxes on the reserve. Triangular in shape, standing tall at over one metre and with a huge entrance hole of thirteen centimetres in diameter, erecting the boxes required the expert assistance of our tree climbing colleague Sandy and his team. Do you have any ideas which bird species would live in a house like this? Well I can tell you now that the boxes weren't great tit mansions but in fact grand designs for barn owl.
Barn owls have been spotted on the reserve in the past and it is hoped that the boxes may provide a place for the species to either roost or breed on the reserve. Our volunteers constructed two boxes as the male bird in a breeding pair apparently requires his own sleeping chamber whilst raising chicks.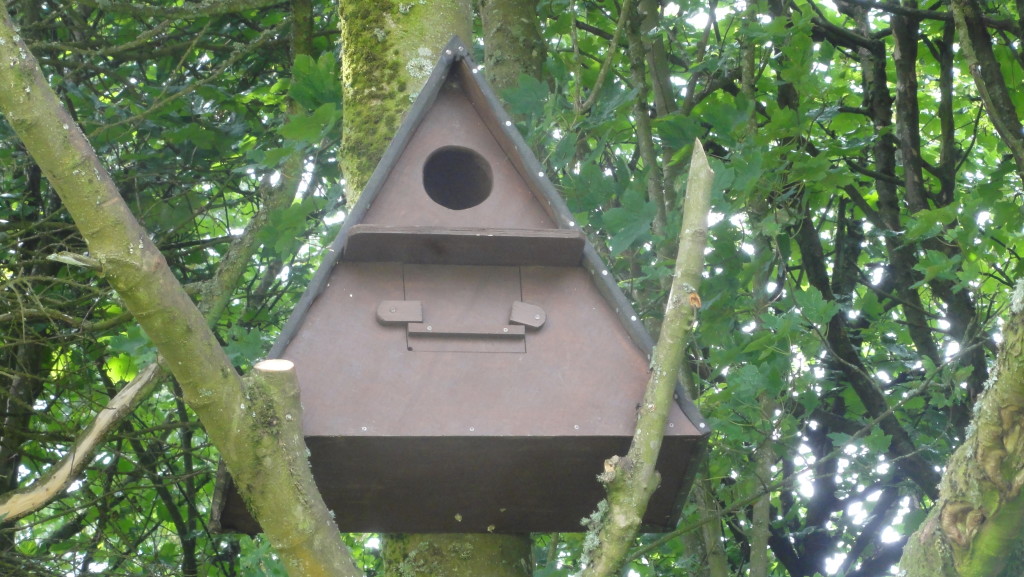 Barn Owl box high up in a tree (C) Adam Jones
The British barn owl population is currently estimated to be at around four thousand pairs with the species doing particularly well in 2014 when the number of field voles, their favourite prey, soared. Individual owls typically live to around four years old in the wild with the current record holder reaching the ancient age of fifteen.
We now have our fingers crossed that at some point in the future the ghostly image of a barn owl silently quartering around a field may become another amazing spectacle to witness on a visit to the Falls of Clyde.
Adam Jones – Scottish Wildlife Trust, Falls of Clyde Seasonal Ranger
Help support our vital work and join us today!
Help protect Scotland's wildlife
Our work to save Scotland's wildlife is made possible thanks to the generosity of our members and supporters.
Join today from just £3 a month to help protect the species you love.
---
Preface
Hi, Over the last few months the Falls of Clyde Ranger Team have been busy putting up a number of small tit boxes in the woodland. Last week saw the …