Despite the recent constant changes in the weather conditions here at Lowes, in the last few days life at the eyrie has been quiet. With our first egg of the year laid on the 14th April, we are now approaching the half-way point of its incubation period (5 – 6 weeks) and I would like to take this time to share with you some of the frequently asked questions from our visitors.
How old is the new female osprey?
Because our new female has no rings of identification on her, we do not know where she originated from or how old she is. Young females who are breeding for the first time usually only lay 2 eggs, so having successfully laid a clutch of 3 eggs it is possible that this female has bred in previous seasons. Alternatively, she may be an older first time breeder who has returned from migration for several years but before this season had been unsuccessful in either finding a mate or a suitable nesting site.  Unfortunately it is impossible to know and we can only make an educated guess, however her behaviour towards her (hopefully) new chicks may provide more insight into her previous parenting experiences.
What do osprey eggs look like?
Surprisingly, osprey eggs are only the same size as chicken eggs. They are beautifully coloured, with a buff to off-white background decorated by dark brown or mahogany spots and patches which are usually more concentrated on the larger, rounder end of the egg. Whilst to human eyes they may appear obvious sat cushioned in the nest, to any aerial predators the random spots of colour help to break up the egg-shape silhouette and provide excellent camouflage.
How long does incubation last?
The female begins incubation as soon as her first egg is laid and incubation usually lasts between 5 to 6 weeks, with the average being 37 days. During this time both adults regularly turn the eggs, ensuring they are incubated at an even temperature.
What happens when the eggs begin to hatch?
Since the parents have been so attentive towards the eggs during incubation, they quickly notice any slight changes in the eggs and will have already heard the chicks calling from inside. When hatching time comes the chick must chisel its own way out using a temporary sharp egg tooth situated on the top of its beak. As the eggs are laid several days apart, the chicks will subsequently hatch with a similar time difference. During this time the female is very careful in caring for the newly hatched chick whilst still incubating the rest of her clutch.
With our first egg laid on the 14th April, we are anticipating potential hatching dates from the 19th May onwards, so stay tuned to watch for the next milestone in the breeding season of our ospreys!
In other wildlife news, I would like to share with you a great picture of the Slavonian Grebe who spent many hours yesterday on the Loch in front of the hide, providing visitors with a fantastic view of this rare bird. Fingers crossed it makes another appearance today!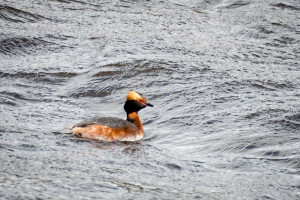 Charlotte,
Perthshire Ranger.
 
Help protect Scotland's wildlife
Our work to save Scotland's wildlife is made possible thanks to the generosity of our members and supporters.
Join today from just £3 a month to help protect the species you love.
---
Preface
Despite the recent constant changes in the weather conditions here at Lowes, in the last few days life at the eyrie has been quiet. With our first egg of the …