Falls of Clyde Recent Sightings 5th-11th May
Hi,
A kingfisher viewed from the boardwalk brightened up a rather gloomy evening on the 5th, 2x dipper were also seen feeding in the small stream located towards the boardwalks southern end. Other species seen regularly on the River Clyde included, 2x goosander (Mill Weir), 1x common sandpiper (Bonnington Weir and Visitor Centre) and 2x grey wagtail (Visitor Centre).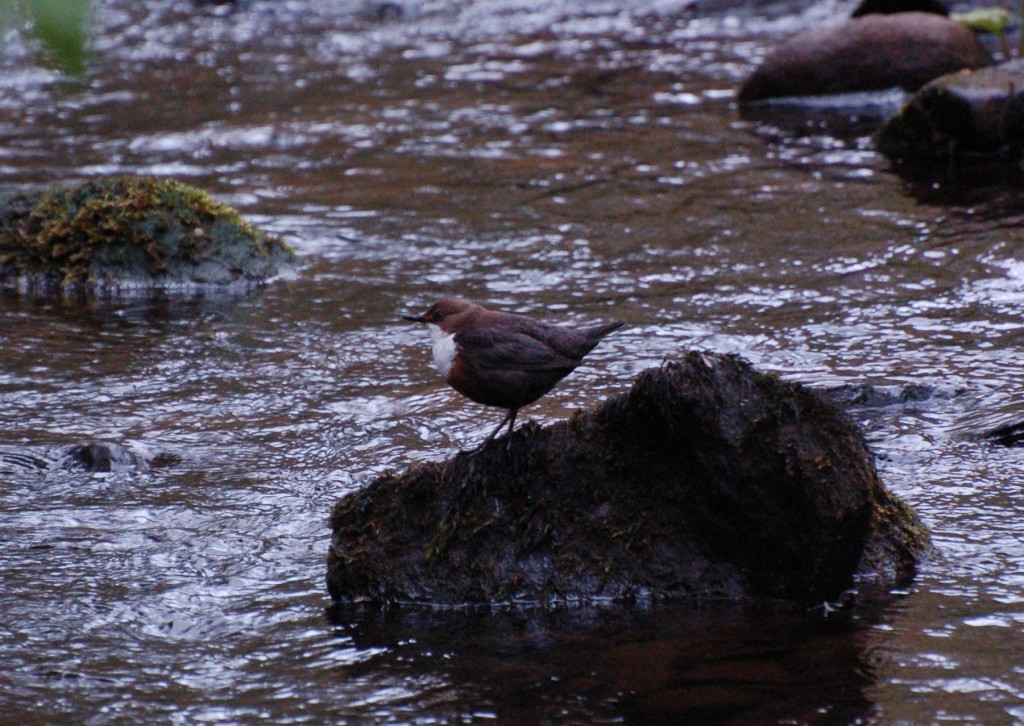 Dipper can be seen daily from the boardwalk and visitor centre (C) Adam Jones
In terms of unusual wildlife behaviour, a carrion crow trying to predate a jackdaw near the powerstation certainly stands out, the whole scene also being particularly raucous when neighbouring jackdaws arrived to mob the hungry crow. Persistent mobbing by the jackdaw flock did however result in the crow releasing their counterpart.
The ranger team continued their search for rare plants on the reserve, successfully finding large bitter-cress flowering along the boardwalk. The white blooms of woodruff and garlic mustard were also noticeable around Mid Lodge.
Whilst looking for rare sedges around the dipping pond a plethora of insect activity proved a slight distraction with early, white-tailed and carder bees, orange-tip and green-veined white butterflies and the hoverfly rhingia campestris all taking advantage of the sunny weather.
Other interesting sightings included, 1x common buzzard (Bonnington Pavilion, daily),  2x stock dove (Bonnington Pavilion, daily), 1x common whitethroat (Bonnington Pavilion, eastern end, 8th), 1x garden warbler (Clyde Walkway near Corra Linn, daily) and 1x yellowhammer (Bonnington Pavilion, eastern end, daily).
Weather Watch
Migrating common swifts must have been held back by the weather over the past week as very few filtered through into the United Kingdom and none recorded here on the reserve. One species which did arrive into southern parts of the United Kingdom in good numbers was spotted flycatcher. So I'd suggest visitors should look out for this late migrant bird along the boardwalk over the next week.
Adam Jones – Scottish Wildlife Trust, Falls of Clyde Seasonal Ranger
Help support our vital work and join us today!
Help protect Scotland's wildlife
Our work to save Scotland's wildlife is made possible thanks to the generosity of our members and supporters.
Join today from just £3 a month to help protect the species you love.
---
Preface
Hi, A kingfisher viewed from the boardwalk brightened up a rather gloomy evening on the 5th, 2x dipper were also seen feeding in the small stream located towards the boardwalks …