Osprey season at Loch of the Lowes is our busiest time of the year, and we are so lucky to have a wonderful team of volunteers who travel from across the region to help us provide an exciting and educating experience for our visitors. We are also very fortunate to have on site volunteer accommodation in the shape of an eco-bothy, allowing us to host full time residential volunteers.
These residential voluntary Species Protection Officers (SPOs) are essential during osprey watch, helping us provide round the clock security and behavioural observations. Over the coming weeks as the osprey breeding season develops, you will hear more from them as they provide you with regular osprey updates. So in the meantime please let the team introduce themselves;
Alex
I graduated from Northampton University in 2014 in pursuit of a career in conservation or environmental science. I was thrilled to be offered the post of volunteer SPO at Loch of the Lowes. I arrived at the reserve less than 24 hours before our new female arrived from her arduous journey. Perfect timing! I witnessed the new pair's first interactions from the hide and have been absorbed in their daily routine ever since. As I write, the visitor centre is buzzing with activity. Loch of the Lowes is a special place with great significance for birdwatchers and nature lovers from Scotland and around the world. I have a golden opportunity to live and work on this nature reserve, to learn from the staff, visitors and other volunteers, and immerse myself in the ecology and behavior of the resident birds and other wildlife. I feel privileged to be helping to protect the ospreys, and very excited about the next 12 weeks. I am a scientist, but it is difficult not to become emotionally attached to these magnificent raptors.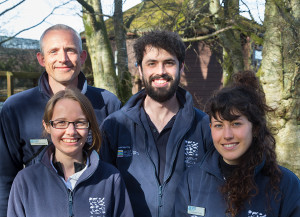 Will
After having spent 5 years studying for a BSc and MSc I felt a bit lost in the wild going out into the 'real world', and so it was that I went about my deciding on a career. Due to the nature of my studies being focused on conservation and ecology I immediately jumped at an opportunity to come and work at such a beautiful and exciting reserve with SWT. I first arrived at Loch of the Lowes on the 25th of March, just after our resident male arrived, and was immediately taken with these fantastic birds. Soon after I was joined by two of the other volunteer SPOs and we jumped head long into studying osprey behaviour and ecology. Within a day of officially starting our post the centre was buzzing with an intoxicating excitement, a female had been seen on the nest. Immediately the ante upped and we became fully immersed in the daily (and nightly) activities of the pair. And so that brings us to now, as I'm writing, waiting with baited breath for the first eggs, and later hopefully chicks. It's sure to be an exciting season here at Loch of the Lowes.
Carmen
Motivated to improve my English and find new opportunities that allowed me to develop professionally, I chose Scotland with its beautiful landscapes as the destination. Previously, I studied in my home country Spain as a forestry and mountain guide, and after seven months in Scotland I found my chance with SWT. I was offered a position as a volunteer SPO where our main mission is to protect and monitor ospreys during the breeding season. This was the perfect opportunity because I have always had the desire to work in conservation and the protection of species. I'm really grateful for this fantastic opportunity and SWT are a great team to work with and do a great job!
 
Charlotte,
Perthshire Ranger
Help protect Scotland's wildlife
Our work to save Scotland's wildlife is made possible thanks to the generosity of our members and supporters.
Join today from just £3 a month to help protect the species you love.
---
Preface
Osprey season at Loch of the Lowes is our busiest time of the year, and we are so lucky to have a wonderful team of volunteers who travel from across …