In search of the Speckled Wood…
At the weekend I went to a Butterfly Conservation Recorder's Gathering up near Perth. This is for anyone who carries out butterfly surveys with the UK Butterfly Monitoring Scheme (UKBMS). People across the country go out and walk a transect every week from March to October. I'm sure a few of you are thinking I am very lucky to be paid to do what seems a trivial exercise. The fact is though that butterflies and moths are important because they respond quickly to change thus revealing the health of the countryside.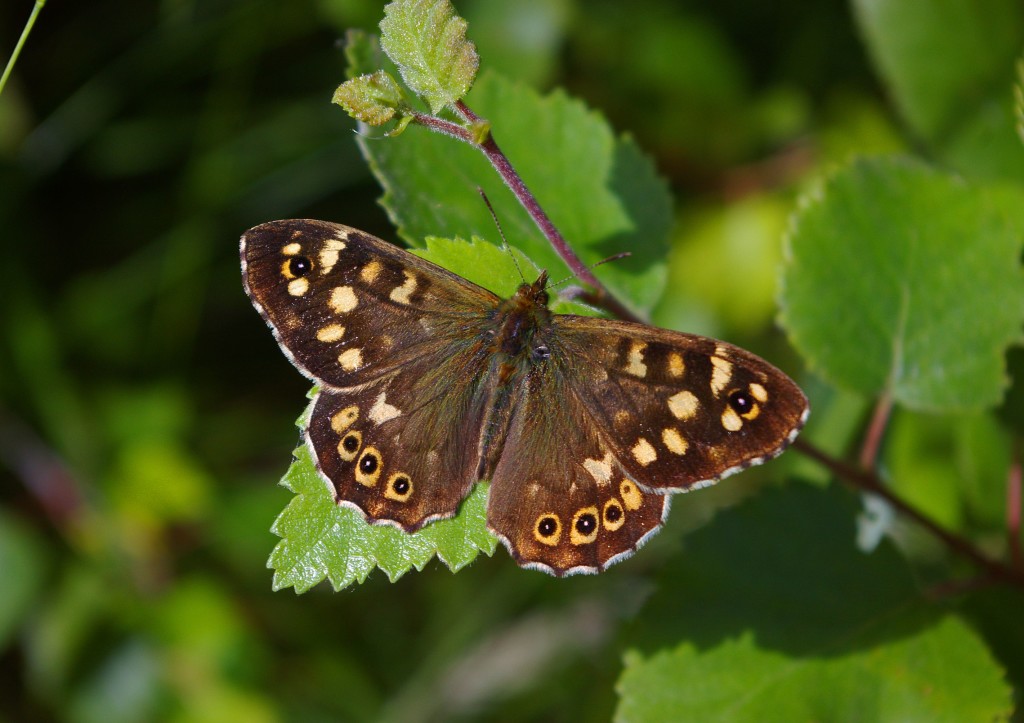 Four species of butterfly and over 60 species of moth became extinct in the last century and 75% of UK butterflies are in decline. Their falling numbers are like a canary in a miners pit – an early warning sign indicating the threat to all wildlife and in turn, us. I don't want to be all doom and gloom though; I just wanted to point out the facts. Interestingly, the top five butterflies in Scotland are – Green Veined White, Ringlet, Meadow Brown, Small Tortoiseshell and Peacock!
Because of the changes in our climate, we are also seeing new species that used to be only found south of the border. The Comma is one of them – an orange butterfly with very distinctive ragged edges to its wings. Another is the Speckled Wood. This butterfly is expanding its range into Scotland and Butterfly Conservation need your help to map its distribution. If you see a Speckled Wood (pictured here) you can record your sighting on their website – www.butterfly-conservation.org/scottishspeckledwood. You will need to make a note of the date / number sighted/ place seen and a six digit grid reference (you can get that easily from www.gridreferencefinder.com).
Laura Preston – Scottish Wildlife Trust, Falls of Clyde Ranger
Help support our vital work and join us today!
Help protect Scotland's wildlife
Our work to save Scotland's wildlife is made possible thanks to the generosity of our members and supporters.
Join today from just £3 a month to help protect the species you love.
---
Preface
At the weekend I went to a Butterfly Conservation Recorder's Gathering up near Perth. This is for anyone who carries out butterfly surveys with the UK Butterfly Monitoring Scheme (UKBMS). …