European Tree of the Year – cast your votes NOW!!
So the time has arrived…
Following our "treemendous" success at the end of 2014 with "Lady's Tree" being "crowned" inaugural Scottish Tree of the the Year, voting has now opened for the even more prestigious title of European Tree of the Year 2015.
The online vote which began on Sunday runs until the 28th February, giving us only a matter of weeks to secure this much coveted prize!
We face stiff competition with a dozen entries from other countries, including our UK neighbours, England and Wales, the Republic of Ireland, Spain, France, Italy, Belgium plus a number of eastern European countries.
Scotland being a  relatively small nation, this will not be an easy contest for us to win. However we know that "Lady" and her tree are watched annually by over 1 million people from nearly 200 countries across the globe and over 100,000 of you read our blog… SO we desperately need your votes if we're to stand a fighting chance!
Here's a quick reminder as to why "Lady's Tree" deserves your vote:
The Scots pine is native to the Highlands of Scotland and is the largest and longest-lived tree in the Caledonian Forest. Its conservation status is recovering with regeneration now starting to occur, especially in areas fenced off from browsing deer.

It forms the foundations for a variety of species that depend upon it in many ways. Playing host to Stump Lichens and Scottish Wood Ants that live on and under the bark, a shelter for deer, shade for flowers, home and food for red squirrel and in pride of place up top, our majestic Ospreys that nest in its level branches.This particular Scots pine at Loch of Lowes is over 60 feet tall and was chosen by our famous Osprey affectionately known as 'Lady', as her home.
It's part of a conservation success story! For the past 24 years this female osprey has returned to nest in this Scots pine tree on our nature reserve at Loch of the Lowes, Dunkeld, Perthshire. During this time she has laid 71 eggs and fledged 50 chicks. This is truly remarkable and the safety provided by this Scots pine in all weathers has surely played a part in that success. Our 24hr HD webcam on the tree attracts over 1 million viewers a year in over 160 different countries. So I think this tree and our Osprey deserve to be equally famous.
We are extremely grateful for all the public support we received in securing Scottish Tree of the Year, and to Woodland Trust Scotland for organising the Scottish contest and now backing our bid to win European Tree of the Year.
PLEASE, PLEASE GIVE US YOUR BACKING AND VOTE FOR "LADY'S TREE" AT http://bit.ly/EuroTreeoftheYear
After registering your vote on the website you will receive a verification email to confirm your choice – you must click on the link in this email for your vote to be counted.
The winner will be announced on 5th March, with the prize awarded during a ceremony on 22nd April in Brussels.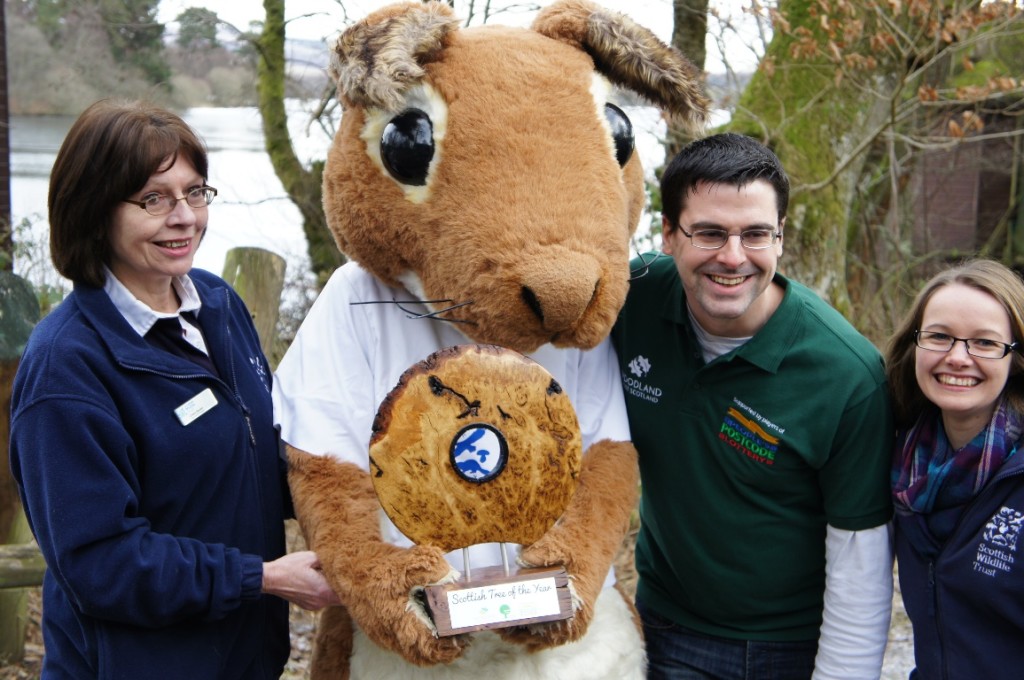 Help protect Scotland's wildlife
Our work to save Scotland's wildlife is made possible thanks to the generosity of our members and supporters.
Join today from just £3 a month to help protect the species you love.
---
Preface
So the time has arrived… Following our "treemendous" success at the end of 2014 with "Lady's Tree" being "crowned" inaugural Scottish Tree of the the Year, voting has now opened for the …