Moths are hugely underrated insects that are seen as far inferior to their beautiful, magical, day flying cousins, the butterflies. Today I'd like to dispel a couple of myths that have been around for far too long.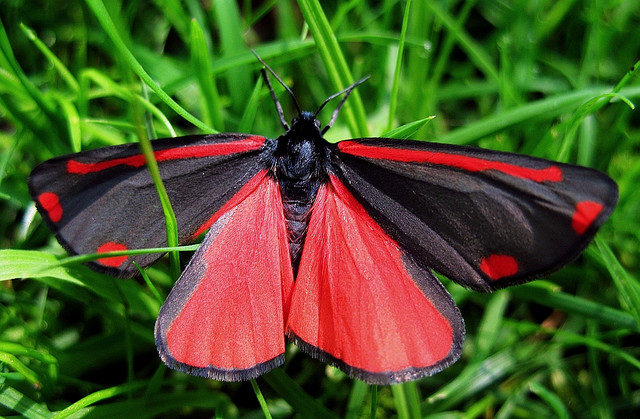 There are around currently around 2,500 species of moth found in the UK and only 59 species of butterfly. Of these 2,500 species of moth, very few like to eat your clothes. They are aptly named clothes moths and they are rather snobbish, fussy creatures and only eat fibres derived from animal sources such as wool. They also prefer dirty clothes found in dark, undisturbed places. If that doesn't encourage you to put a wash on I don't know what will!
Sadly these poor guys are often persecuted much more than they should be and are wrongly blamed for damage to clothes that in fact was caused by the common carpet beetle larvae. You may also find holes in your clothes, which are just down to natural wear and tear, and sometimes your washing machine can cause damage as well.
Clothes moths are some of the 'little brown jobs' of the moth world however there are some incredibly beautiful moths out there. One of my favourites is the cinnabar moth that feeds on ragwort and can be found across the UK. The cinnabar moth is not only beautiful but it also flies during the day. There are quite a few day flying moths and it is not just the day flying ones that are beautiful, there are many that only fly at night that you may never see that are just as amazing to look at as some butterflies. The cinnabar caterpillar is also pretty incredible to look at; it has a black and yellow striped body.
Laura Preston – Scottish Wildlife Trust, Falls of Clyde Ranger
Help protect Scotland's wildlife
Our work to save Scotland's wildlife is made possible thanks to the generosity of our members and supporters.
Join today from just £3 a month to help protect the species you love.
---
Preface
Moths are hugely underrated insects that are seen as far inferior to their beautiful, magical, day flying cousins, the butterflies. Today I'd like to dispel a couple of myths that …