What do wedding cakes and daddy's shirt buttons have in common?
This week, I have left writing the wildlife watch diary until the last minute (today is Tuesday) hoping I could tell you news of our new peregrine chicks. Unfortunately they have decided to stay cooped up inside their cosy shell for a little while longer. I'm sure next week I will have the joy of telling you all that our chicks have arrived but until then, I thought I would tell you about how to tell the difference between two rather indiscriminate wildflowers; lesser stitchwort and greater stitchwort.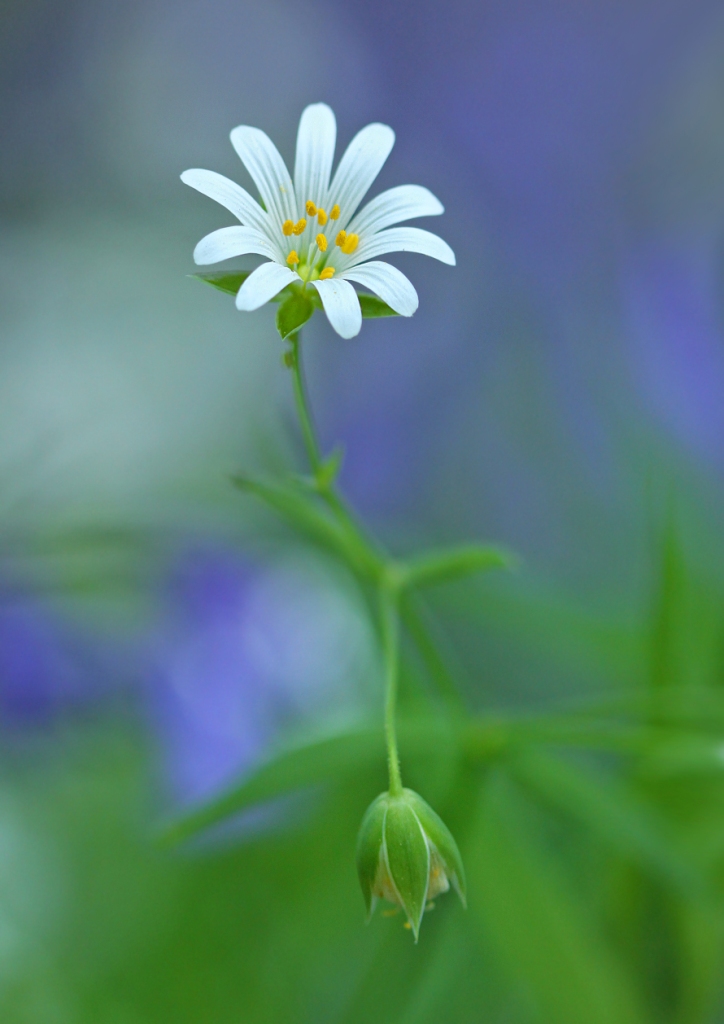 Greater stitchwort has pretty star-shaped, white flowers (2-3cm across) that bloom from April-June. The brittle square stems snap easily giving the alternate name of 'snapdragon'. The flowers have five white petals that are deeply notched, so much so that they look almost divided in two so if you weren't careful you would count ten petals. It has green leaves that are grass-like in appearance and can reach heights of up to 60cm.
The lesser stitchwort has much smaller flowers (0.5-1cm across) and the narrow white petals alternate with long green sepals. Sepals are the part of the plant that is found beneath the flower; they keep the flower protected before it opens. Again it looks like the flower has ten petals but in fact there are only five that are deeply lobed, almost until the base. Lesser stitchwort also flowers a bit later than greater stitchwort from May-August.
Greater stitchwort is very widespread and can be found in most wooded areas, lesser stitchwort prefers more acidic soils and prefers open areas such as meadows and woodland rides. The easiest thing to look out for when trying to determine which species you have found is the square stem and the size of the flowers.
And in answer to the question I posed in the title of this post – they are both common names for greater stitchwort!
Laura Preston – Scottish Wildlife Trust, Falls of Clyde Ranger
Help protect Scotland's wildlife
Our work to save Scotland's wildlife is made possible thanks to the generosity of our members and supporters.
Join today from just £3 a month to help protect the species you love.
---
Preface
This week, I have left writing the wildlife watch diary until the last minute (today is Tuesday) hoping I could tell you news of our new peregrine chicks. Unfortunately they …