Female osprey NC0 laid her second egg of the season at Loch of the Lowes Wildlife Reserve near Dunkeld at 8:04 this morning. Our staff and volunteers at the reserve are now waiting to see whether she will lay a third egg in the coming days.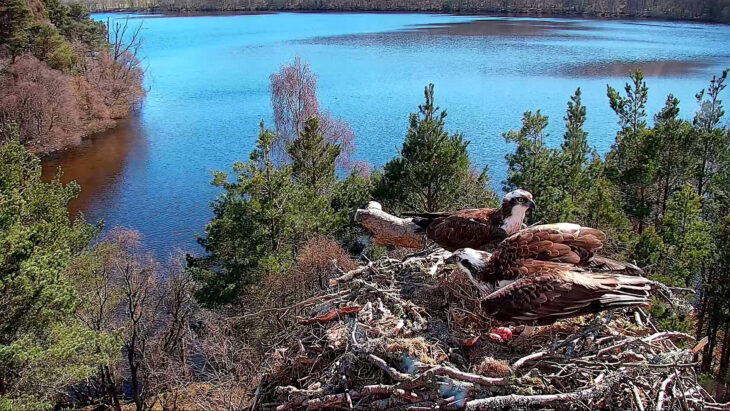 Our Perthshire Ranger Sara Rasmussen said: "We are absolutely delighted that NC0 has settled down on the lochside nest after all the work that took place this winter to make it a more attractive location for her.
"NC0 is a young bird so she may only lay two eggs this season, but there is still a chance of seeing a full clutch of three. No matter what happens we'll be keeping a watchful eye on the nest throughout the incubation period, ensuring that these ospreys have a safe and secure nesting site."
Will Humpington, Advisor for Climate Change & Environment, People's Postcode Lottery said: "The Scottish Wildlife Trust's team at Loch of the Lowes Wildlife Reserve play a vital role in the conservation of an iconic species. I'll be keeping my fingers crossed for news of a third egg soon."
Eggs are incubated for around 5-6 weeks before they hatch, meaning NC0's eggs are expected to begin hatching in May. While NC0 is responsible for the majority of incubation, she will occasionally leave the nest to eat when the male osprey LM12 brings a fish to the nest.
The Trust's live osprey webcam ensures people from around the world can follow events as they happen. Our Osprey Protection Programme is supported by the players of People's Postcode Lottery.