Great Scottish Squirrel Survey
Autumn is upon us and animals are getting themselves ready for winter, with increased foraging activity in order to put on enough weight to see them through the harsh winter months.
You could take advantage of this preoccupation with food, as animals will be more visible during the day time. This time of year is a great opportunity to go out and do some red squirrel spotting. Red squirrel week runs from 23rd to 27th September and any that you see during this time can be added to the Great Scottish Squirrel Survey, as organised by Saving Scotland's Red Squirrels.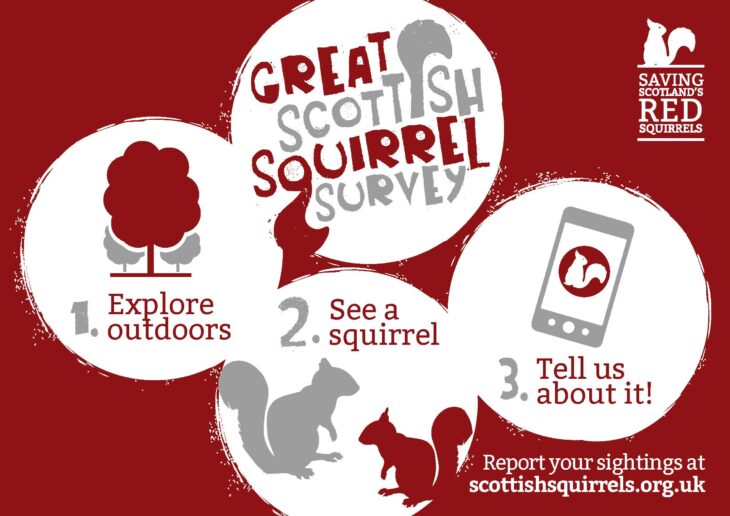 All data collected, whether relating to grey or red squirrels is valuable and is used to help protect one of our most threatened species. Red squirrel numbers are declining due to their susceptibility to the fatal squirrel pox virus. A disease which grey squirrels carry unharmed and pass on to the reds, particularly at feeding stations. Other factors contributing the demise of the reds are habitat destruction, fragmentation and replacing mixed woodland with coniferous woods, which are of lower foraging quality. The results of the Great Scottish Squirrel survey will provide a snapshot of the population and so illustrate where conservation efforts should be concentrated.
When is the best time to see squirrels? During autumn foraging intensity increases. Squirrels start slightly before dawn until mid-morning, having a lull around midday, and picking up again in mid-afternoon until darkness may force them back into their nests (dreys). They may forage all day during September, just taking wee naps outside the nest. A lot of energy is expended at this time of year due to the squirrel's caching (hiding) of food for winter and so they take a longer time to eat enough to sustain them for the day.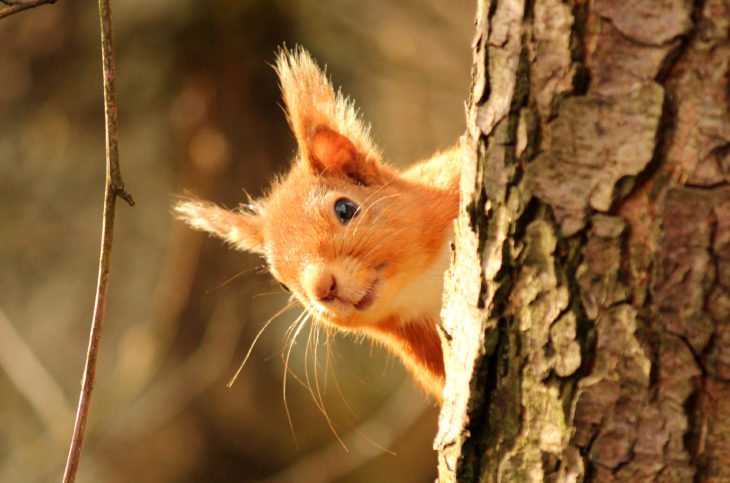 What do they eat? Squirrels are opportunistic feeders, taking a great variety of food throughout the year. During autumn time, seeds and fungi are important foods. Many tree seeds will be cached and buried in the ground for consumption during the lean winter months. Squirrels won't always remember where they have stashed their rations and so some seeds may germinate helping to regenerate woodlands .
Where are the best places to see red squirrels? There are a number of Scottish Wildlife Trust Reserves where you have the chance to do some red squirrel spotting: Balgavies Loch, Balnaguard Glen, Carstramon Wood, Gight Wood, Knapdale Forest, Loch of the Lowes and Stenhouse Wood. You can find the individual reserve pages using the following link: Scottish Wildlife Trust reserves and visitor centres.
So why don't you spend some time this week squirrel spotting and in turn help to conserve one of the UK's most threatened species.
Clare Toner, Clyde Valley Ranger.
Help protect Scotland's wildlife
Our work to save Scotland's wildlife is made possible thanks to the generosity of our members and supporters.
Join today from just £3 a month to help protect the species you love.
---
Preface
Autumn is upon us and animals are getting themselves ready for winter, with increased foraging activity in order to put on enough weight to see them through the harsh winter …