Taking photographs of wildlife is really fun, and helps to capture the moment. But what do you do with all your photos? How often have you left them sitting in your phone or on the computer? Now's the time to make use of all those lovely photos, by turning them into a wildlife photo collage. This activity will help you relive all your great moments, and the result will be a piece of art that you could display.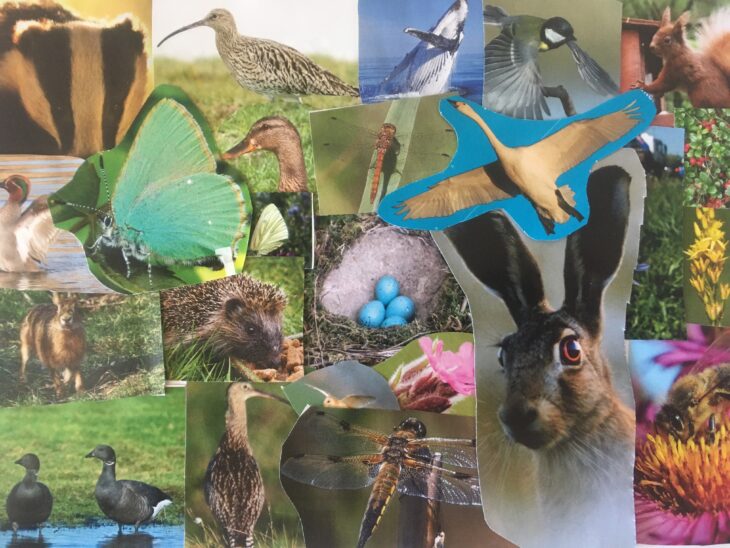 ---
What you will need:
Plain paper – size of your choice
Printed wildlife photos or magazine cuttings
Glue or clear tape
---
How to make your wild photo collage:
If you would like to set a theme for your collage, do this before you collect your printed pictures. Here are some theme ideas: spring, mammals, birds, wildlife I saw last year, flowers.
Collect the pictures you would like to use and cut them out. You could leave some as rectangles and squares, but cut others around the outline of the animal or plant itself – so that you have lots of pieces of different shapes and sizes.
Decide if you want to stick to a pattern (for example you could decide to place the big pictures at the edge and smaller ones towards the middle) or just position your pictures randomly on the page.
Start to glue (or tape) your pictures onto your page. Try not to leave any white gaps – even if this means sticking over parts of some of the pictures.
Once the glue has dried, hold up your finished collage! Why not see how many different types you can make? You could use an old exercise book or children's scrapbook to keep your collages together.
Share your photo collages using #DiscoverLearnPlay