Mud kitchens provide a fantastic opportunity for younger children to explore the outdoors in an informal, messy and tactile way. This activity is great for firing their imaginations and giving them learning opportunities through outdoor play.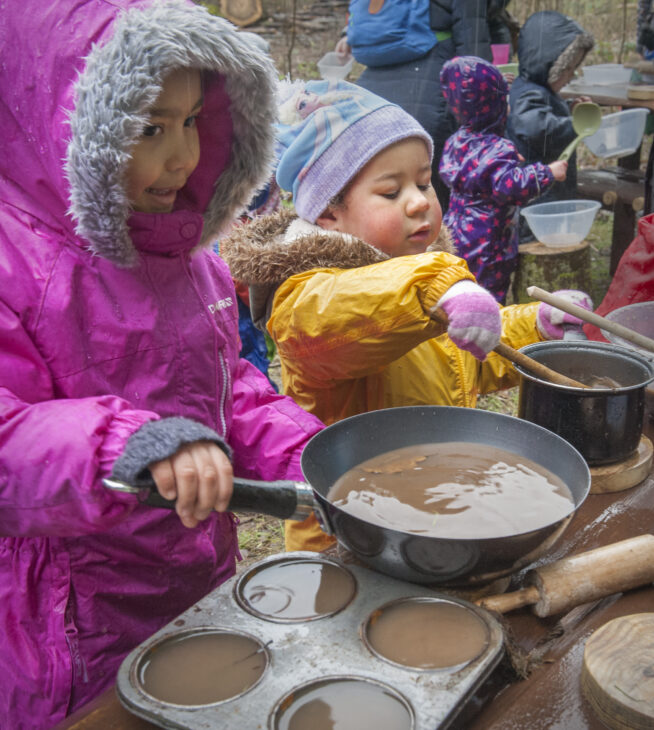 ---
What you will need:
Outdoor space – such as a patio, balcony or lawn
Mud (you could use peat-free compost from the garden centre, if you don't have a garden).
Old kitchen utensils (optional)
Old containers
An old table (optional)
An apron, or clothes you don't mind getting dirty
Water
---
How to make a mud kitchen:
The extent of your kitchen depends on your resources, and how much you would like to leave to the imagination. But some sort of table, with old kitchen equipment or containers will help to start you off.
You could elaborate on this by building a play kitchen out of old wood, with spaces to hang pots and pans and a cupboard for dishes!
Help the children to make the mud – it might need diluting, or you might need to dig the top layer of soil for them.
Get messy! Let the children learn through touch. They will start to communicate and use role play.
You could work in some maths and science – for example by adding water gradually and seeing how it changes the material, or by using old measuring jugs and scales to measure specific amounts of mud.
You could work in some literacy, by asking older children to create recipes.
Try not to put too many restrictions on this – the children will learn motor skills, communication skills, and will develop their imaginations, by having the freedom to play.
Share your photos using #DiscoverLearnPlay