Today's the day the teddy bears have their picnic! This is a timeless classic that younger children in particular will enjoy. It's a chance to be out in nature without children realising or feeling like learning is the primary focus of the activity.
It also offers a chance to explore the imagination, and for children to practise their language and story telling skills through play. Due to it being a picnic, there is a chance to help children learn about different foods, how to prepare them, and how to enjoy them outside!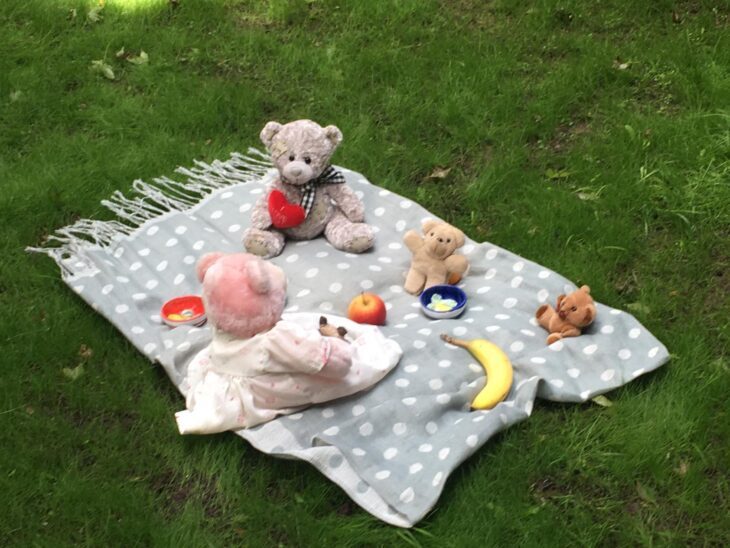 ---
What you will need:
Some teddies
A picnic mat, towel, rug, or scarf (optional)
Food
Plates and bowls
---
How to organise your teddy bears' picnic:
Plan an outdoor location – whether a balcony or a woodland, the teddies will be happy.
Let the children lead the activity. This will help them to develop their planning and leadership skills, encourage responsibility and will be more fun for them.
Once the children have chosen a spot, check they have chosen safely, and help them to set out the picnic.
Take the children's lead on which characters would like which foods. Some children might start doing this with ease, others may need prompts to help them use their imaginations.
Once children have got the hang of this, they will practise their conversation skills through the teddies. They may even take the teddies to explore ways to play outside.
You could sing songs at your picnic and play games – the song "Teddy Bears' Picnic" would be perfect!
Remember to make your picnic real enough that you and your family, group, or class, can enjoy eating it too.
Share photos of your picnic using #DiscoverLearnPlay