The second osprey chick of the season has hatched at Loch of the Lowes Wildlife Reserve near Dunkeld.
A small crack in an egg was visible yesterday evening and just after sunrise the Trust's Osprey Protection Team were rewarded with their first glimpse of the new chick.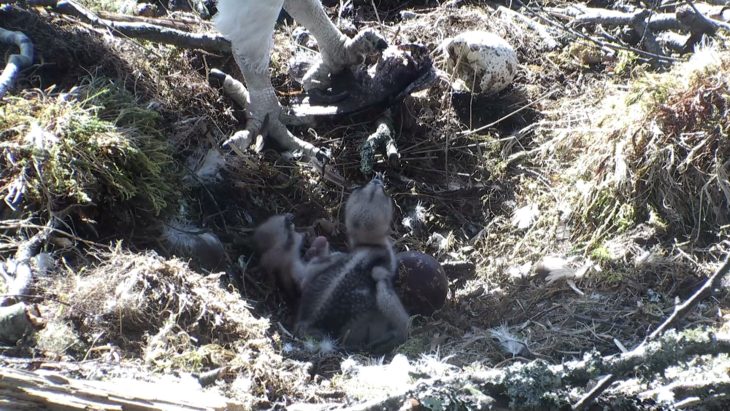 Reserves Manager Rab Potter said: "The nesting ospreys have been extremely active feeding their first chick up to seven times a day, and this activity will increase now that we have a second in the nest. We'll be watching and waiting to see if the third egg hatches over the next few days."
The ospreys have been joined by two unusual visitors since the first chick hatched on Saturday 13 May. On Monday evening an inquisitive red squirrel was chased away from the nest several times, and on Wednesday night a tawny owl was spotted perching over the nest for a short time.
Osprey chicks grow incredibly quickly, fuelled by a high protein diet of pike, trout and other fish brought to the nest by their parents. They are initially covered in down, but start to grow new feathers within days, and are ready to fly after seven to eight weeks.
Once extinct in the UK, there are now around 240 breeding pairs of ospreys thanks to the efforts of nature conservation charities including the Scottish Wildlife Trust, whose Osprey Protection Programme is supported by players of People's Postcode Lottery.
Clara Govier, Head of Charities, People's Postcode Lottery said: "It's great news that the osprey pair at Loch of the Lowes have hatched their second chick. We're delighted that players' support is helping these iconic birds of prey to thrive at Loch of the Lowes, and we'll be glued to the Trust's webcam to see if a third chick emerges."