At the weekend I experienced something I've never experienced before: I walked through a cloud of butterflies. I watched as they flew around my head in all directions, dividing their time between the seemingly impulsive actions of flitting through the air, feeding on the nectar of the nearby buddleia flowers, and resting in the fairly weak afternoon sun. I took lots of photos and, keen to know the species instantly, I googled "UK butterflies", scrolling through the results until I found a picture that matched mine. I found it: my butterfly was the Painted Lady.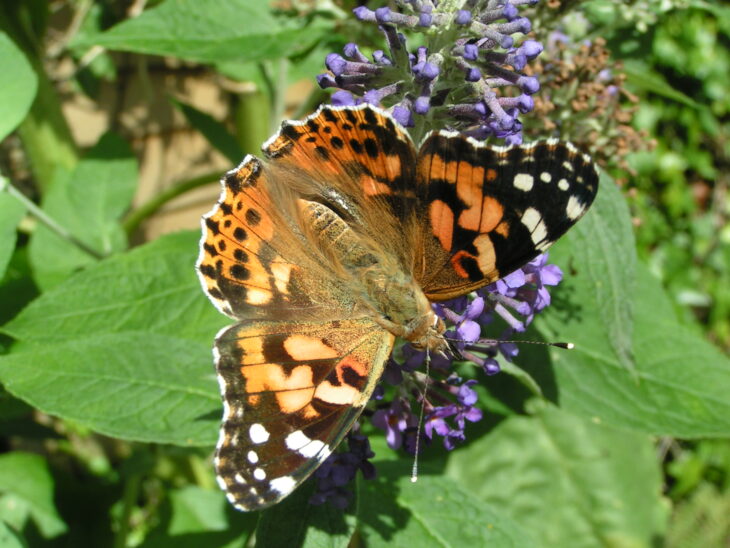 Once I had learnt this butterfly, I then kept seeing it everywhere; and I mean everywhere. They're all over the plants that border our car park, they're outside the ice cream shop, they're flying past my windscreen on the way to work, and they're even covering my colleagues' houses. What's going on? Where are they all coming from and why are they here?!
The reason this feels amazingly unusual is because it is. The Painted Lady is a migratory species of butterfly, coming to the UK from North Africa via South West Europe every summer. It does this through successive generations – so the ones that reach Scotland are offspring of individuals that arrived in Europe (it's not individual butterflies making the entire journey themselves!). Nevertheless, each generation has an impressive journey ahead, and for this they have a strong flight and can travel at speeds of 30 mph! While this migration happens every year, on rare occasions conditions are such that they arrive in their millions, and 2019 is looking like one of those years! The last time the UK saw an influx on this scale, was 2009.
With this in mind, Butterfly Conservation is encouraging people to record sightings of the Painted Lady, and other butterfly species, through the annual Big Butterfly Count. This simple survey takes just 15 minutes to complete and can be done anywhere! So, a team from our office gave it a go in a nearby wildflower garden. We estimated 100 Painted Ladies (there were too many to get a definitive count!); 1 meadow brown; 1 green veined white; and 1 small tortoiseshell. It was a chance to get out in the sunshine on our lunch break and to contribute to citizen science at the same time. This information will be used to monitor the distribution and migration of species like the Painted Lady over many years, meaning it can be used to help understand the impact of influences such as climate change. By taking part in the count, we are contributing in our own small way to the conservation of these species.
And that hopefully means, that people in 20 years time will still be enjoying the experience of walking through clouds of butterflies during Scotland's Summer!
Catherine Leatherland
People and Wildlife Officer
Help protect Scotland's wildlife
Our work to save Scotland's wildlife is made possible thanks to the generosity of our members and supporters.
Join today from just £3 a month to help protect the species you love.
---
Preface
At the weekend I experienced something I've never experienced before: I walked through a cloud of butterflies. I watched as they flew around my head in all directions, dividing their …