Three eggs for LF15 and LM12!
There is great news for the osprey pair here at Lowes as LF15 has laid her third egg of the season!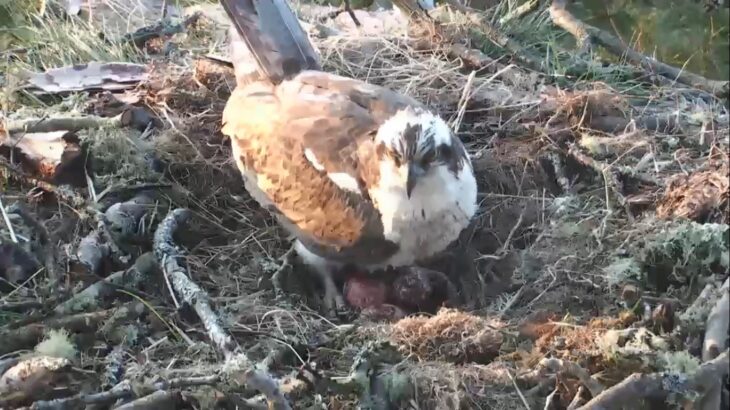 At around 6pm yesterday evening LF15 began to look a little ruffled and uncomfortable, breathing more heavily than usual. At 6.27pm she appeared to give a final push and stood up to reveal a third egg.
After tending to her eggs and shuffling around some nest material, LF15 settled down to incubate. Shortly after this LM12 arrived, bringing some moss and a much-needed twig. He delivered a trout a short while later but LF15 was once again reluctant to leave her eggs.
At around 8.15pm the male left the nest for the evening, leaving his mate alone to another cosy night incubating their eggs.
Female ospreys tend to lay eggs 2-3 days apart. LF15 has followed this pattern like clockwork, laying her eggs on April 4, 7 and 10.
Interestingly, these are the exact same dates that she laid her eggs in 2017. On average, eggs will hatch 35-37 days after laying so, if all goes well, we will hopefully see some chicks hatching from 9 May onwards.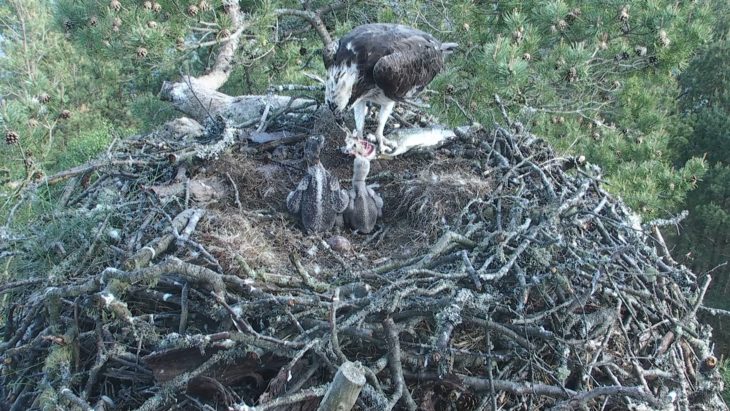 We'll be keeping our fingers (and talons) crossed for the sight in chicks in just under a month!
Remember to follow our live webcam or pop in to the Visitor Centre (open 10:30 – 5 pm daily) for the latest news.
Nick and Jane
Species Protection Officers
Help protect Scotland's wildlife
Our work to save Scotland's wildlife is made possible thanks to the generosity of our members and supporters.
Join today from just £3 a month to help protect the species you love.
---
Preface
There is great news for the osprey pair here at Lowes as LF15 has laid her third egg of the season! At around 6pm yesterday evening LF15 began to look …