The sad story of a humpback whale
Early in 2019, whale watchers in Fife were, for the third year running, treated to the sight of humpback whales. Three individuals were seen from February – April as they came to the Firth of Forth to feed.
Sadly, this year would prove to be different; the elation of the return of the whales turned to sadness, on the realisation that one was entangled. At this point, BDMLR (British Divers Marine Life Rescue) urged people to look out for the whale and report sightings, in the hope that they could find and rescue it. Since then, hopes have been held, waves have been scanned, and fingers have been crossed for this individual.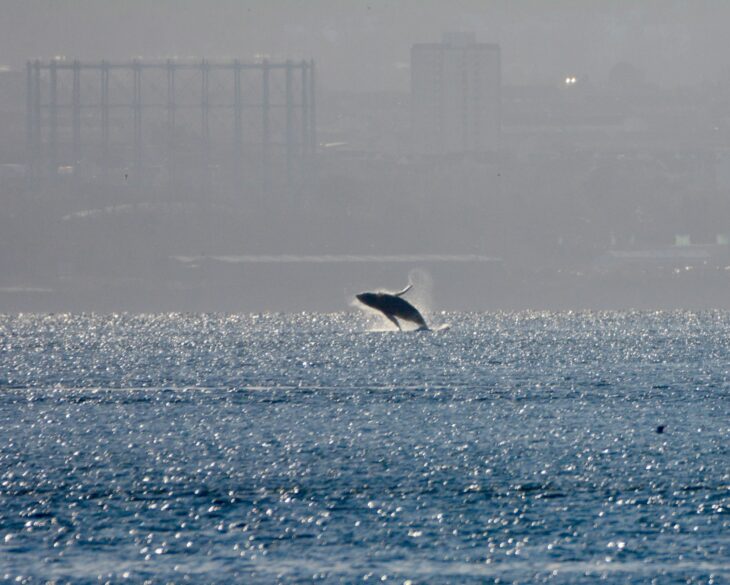 I have been a Shorewatch volunteer with Whale and Dolphin Conservation since 2015 – the year I saw my first ever dolphin. In 2016, I was delighted (understatement!) to witness the humpback whales that spent the summer off the coast of Aberdeen. In 2017 and 2018 I was again able to whale watch on my doorstep, joining the crowds at Kinghorn to see the breaching whales in the Firth of Forth. They are my favourite species of whale – I love them.
So, I went to Kinghorn, in Fife, to try to find the entangled whale. The day I chose was awful for whale watching – the sea was choppy, it was really cold, and it was even snowing. But there was a whale in need, this was my only available day, and I wanted to find it.
Sadly, no matter how hard I tried over the few hours that I sat in Kinghorn car park, I did not spot the whale. I was desperate to help, but sometimes you can't see whales and dolphins even if they are there, because of the sea and the weather; it was time to give up for the day. Other dedicated watchers continued to search for the whale over the next month, and although it was subsequently seen a couple of times, the rescuers were never able to find it to attempt a rescue.
On 23 April 2019, a juvenile humpback whale washed up on a beach in East Lothian. From the distinctive tail markings, it is known to be the same individual that was seen entangled earlier in the year. From the whale's condition it is thought to have been entangled for weeks, if not months. This affected its ability to feed – nothing was found in its stomach. It became weak, succumbing to a heavy parasite load. Finally, the whale's weakened state and weight of the entanglement caused it to drown.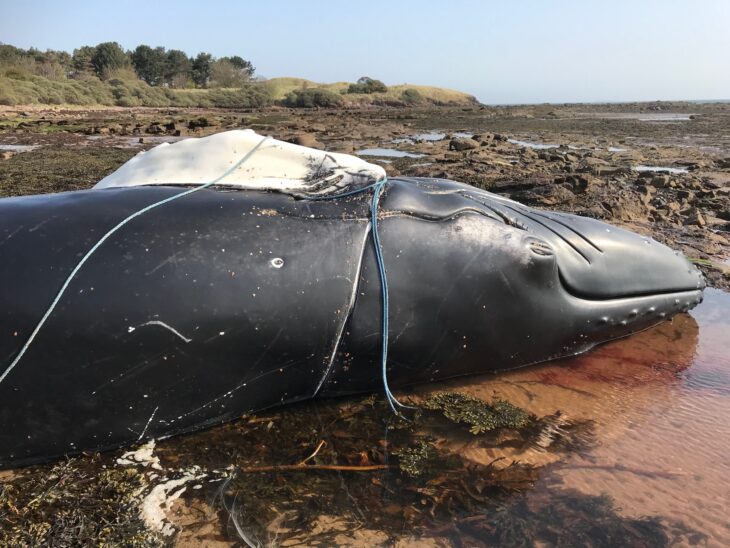 This outcome is tragically sad, and worse than that sadness, is the feeling of guilt. Guilt that we could not find the whale to help it, and a greater guilt that we, as a species, had a part to play in the cause of death. Entanglement is one of the main threats to whales. It can prevent them from being able to reach the surface and take breath, causing them to drown. If the whales are unable to break free, the gear can affect their behaviours, their ability to feed and the speed at which they can swim. Entangled rope can dig into a whale's body, causing painful and life threatening injuries, made worse by the whale's struggle to get free. Often, we do not see any of this – we see the happy, displaying whales and we share their joy. The photos of this dead whale, entangled in man made rope, force us to share its pain.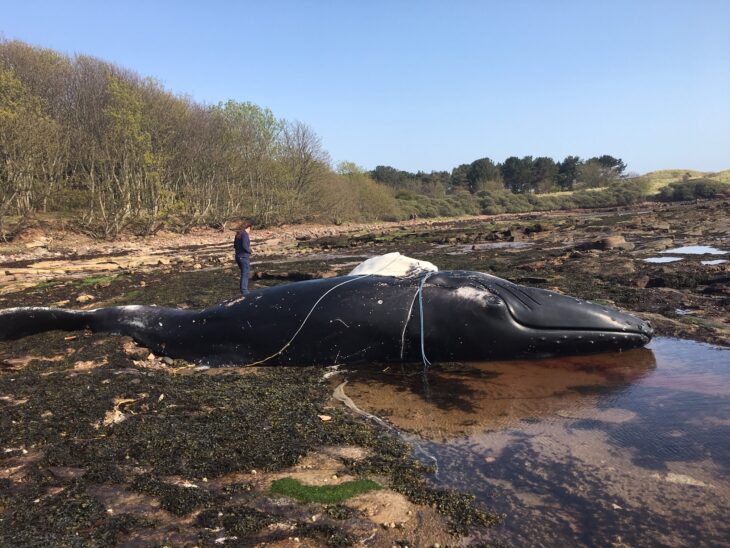 Humpback whales are wonderful creatures that have lived in our oceans for millions of years. Their distinctive size and shape, and quirky behaviour, endear them to us; they're gregarious and fun, communicative and emotional. They represent beauty, power, freedom and wildness. We want to see them, we want to watch them, we feel a connection. The sight of a humpback whale gives us a feeling of elation, one that is almost indescribable – a reminder of our belonging to a wild and bigger world.
Yet when a whale watching story such as this one has an unexpected ending, one which is not the one we imagine and hope for, it forces us to face reality: we are the authors of this whale's story, this is the way it has been written, and we must accept and own how the ending makes us feel.
Caring, is the first step to changing something. There is much work being done by different organisations, scientists, politicians and communities across the world to combat this issue. The UK has committed to being a world leader in tackling whale and dolphin entanglement.
As individuals, we can help with this issue by reporting large items of coastal litter, including fishing gear, to our local councils. Any stranded or struggling live marine animal should be reported to BDMLR, and if they are already dead to the Scottish Marine Animal Stranding Scheme.
Entanglement in marine litter is a problem for other, smaller animals too, and routine beach cleans, such as those organised by the Marine Conservation Society, can help to reduce the amount of waste in our seas, as well as to analyse the kind of waste that is causing most harm.
We need to continue to find ways to share our oceans with these beautiful creatures, and as individuals we need to play our part in this, if we want to change the ending to stories like this one in the future.
Catherine Leatherland
People and Wildlife Officer
Help protect Scotland's wildlife
Our work to save Scotland's wildlife is made possible thanks to the generosity of our members and supporters.
Join today from just £3 a month to help protect the species you love.
---
Preface
Early in 2019, whale watchers in Fife were, for the third year running, treated to the sight of humpback whales. Three individuals were seen from February – April as they …