A new adventure awaits in the Scottish Borders – Farewell from the Falls of Clyde Ranger
After almost 8 years of working at the Falls of Clyde, I am now moving on to pastures new. Jenny who has been writing these articles for the past couple of months will be continuing until Christmas, and in the New Year, the newly recruited Falls of Clyde Ranger will take her place. I have taken a job with the Saving Scotland's Red Squirrels project in the Scottish Borders. I'll still be working for the Scottish Wildlife Trust which is wonderful because they are such a brilliant organisation.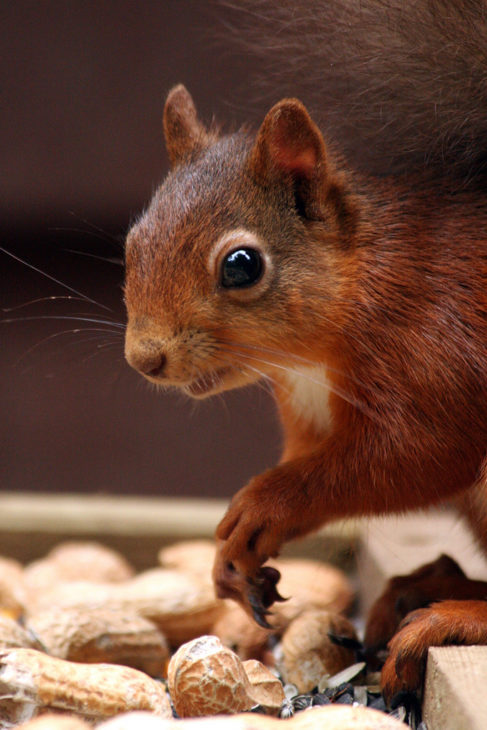 In my final few weeks I finally saw a nuthatch on the reserve, can you believe it! I think that it knew I was leaving and came out to say goodbye. The kingfisher keeps zipping about outside the office window as well, annoying the dippers and the heron who prefer a more relaxed way of life.
Thinking back on my time here – I have had so many incredible wildlife experiences from tiny badger cubs at my feet, seeing unbelievably close up views of peregrines and having a juvenile land only metres away from me. Being able to watch an otter mum catch fish for her young cubs and having the company of ravens flying overhead.
I will miss the autumn colours on the trees and watching the leaves float down around me, and the giant icicles in winter and the loud crashing noises they make when they begin to melt. Then there are all the amazing wildflowers, most of which I couldn't name when I first arrived, but since then I've been searching for all the locally rare species.
I've met people from across the globe and have been able to share my enthusiasm about wildlife and this magical place with so many wonderful people. I am very sad to be leaving, especially all the volunteers who have put up with me over the years. I hope the new ranger enjoys their time here as much as I have. Goodbye for now, Laura.
Laura Preston, Falls of Clyde Ranger
Help support our vital work and join us today!
Help protect Scotland's wildlife
Our work to save Scotland's wildlife is made possible thanks to the generosity of our members and supporters.
Join today from just £3 a month to help protect the species you love.
---
Preface
After almost 8 years of working at the Falls of Clyde, I am now moving on to pastures new. Jenny who has been writing these articles for the past couple …