Falls of Clyde Recent Sightings – 27th March to 2nd April 2017
Hey everyone,
So it has been a pretty interesting week for sightings, we will start off with some great news and that is we have had a sighting of a peregrine flying over the reserve. Just to make it clear, this is will not be one of our original breeding peregrines. It does gives us hope though, and is still great to know peregrines can still be seen on our reserve.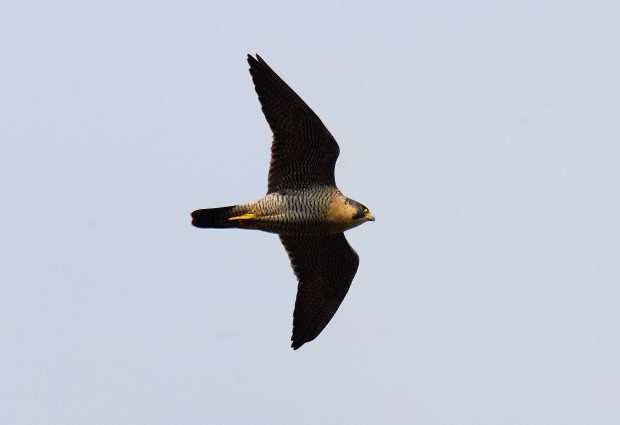 It seems that this week is all about our birds of prey as we have seen multiple buzzards flying over the reserve; I even had the opportunity on one of my walks to witness a sparrowhawk chasing a blackbird. In terms of birds on the river we have sightings of goosander, dipper, grey wagtail and the lone cormorant all being present. We have sightings of jay and a pair of magpie (what joy!) and a singing chiffchaff in our woodland.
When it comes to our sightings for mammals we have had great sightings of badger, three roe deer and pipistrelle bats active at night.
Something a little different in terms of our wildlife sightings and that is we managed to put out a moth trap and this is what we found – 16 hebrew character, 31 common quaker, 8 clouded drab, 1 brindled pug, 4 twin-spotted quaker, 3 chestnut and 1 mottled grey.
For our plant sightings we have wood anemone, dandelion, great wood rush, lesser celandine, marsh marigold, dogs mercury, cuckoo flower, alternate leaved golden saxifrage, opposite leaved golden saxifrage and finally moschatel all out. Most of our wildflowers can be spotted along the boardwalk, only a 10 minute walk from New Lanark.
Finally to finish we will share species seen further afield. There is a singing chiffchaff at South Cardonald, Glasgow. There are also seven nuthatches (three pairs and a single male) in Strathclyde Country Park. Then there are two black-tailed godwits and a green sandpiper at Carbarns Pool.
Feel free to send in your local sightings to fallsofclyde@scottishwildlifetrust.org.uk.
Mike Butler – Falls of Clyde Seasonal Ranger, Scottish Wildlife Trust
Help support our vital work and join us today!
Help protect Scotland's wildlife
Our work to save Scotland's wildlife is made possible thanks to the generosity of our members and supporters.
Join today from just £3 a month to help protect the species you love.
---
Preface
Hey everyone, So it has been a pretty interesting week for sightings, we will start off with some great news and that is we have had a sighting of a peregrine …