Greening at Loch of the Lowes – leading by example
Global climate change and the degradation of ecosystems through resource depletion are two of the biggest challenges that our planet currently faces. As much as we may not wish to, the Scottish Wildlife Trust's operations are contributing to this. Consequently the whole organisation is committed to reducing, where possible, the detrimental impacts of our activities on the wider environment and promoting sustainable resource usage.
As the Trust's most high-profile reserve and one of the most visited, Loch of the Lowes is ideally positioned to demonstrate best practice in this regard. We take this responsibility seriously and have therefore introduced a number of measures in recent years to improve our environmental performance and lead by example.
Energy
With all of the wildlife cameras, tv screens, computers and other electrical equipment that we have at Loch of the Lowes, our energy usage is relatively high. However, we try to save energy where we can.
All of the lighting in and around the visitor centre and in the volunteer accommodation building is either LED or low energy bulbs. We ask everyone to turn off the lights after they've been to the toilet and will soon be installing sensors to turn them on and off automatically.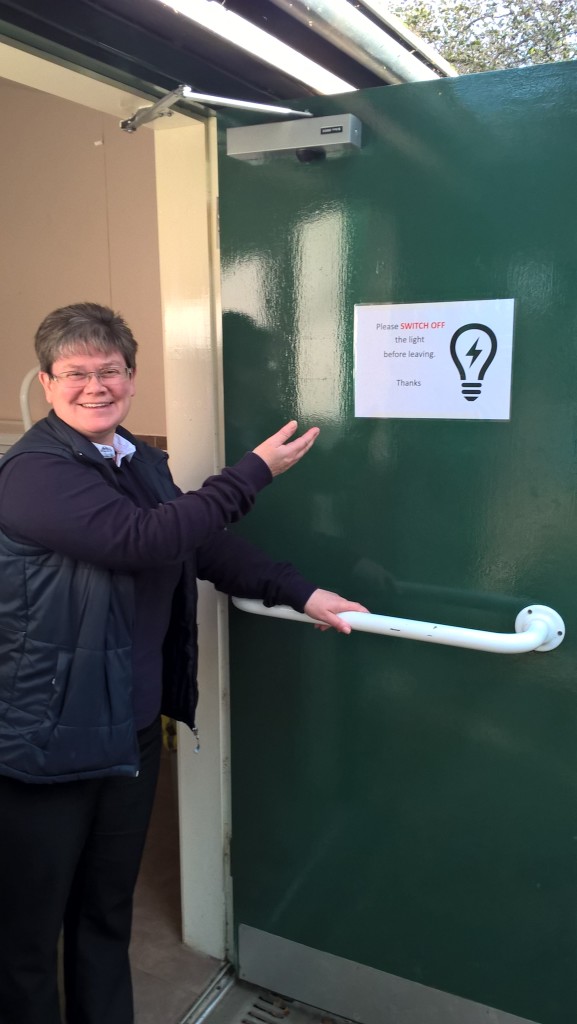 Heating for the visitor centre comes in the form of electric heaters with individual thermostats which can be adjusted depending on the required temperature in each area of the centre.
The centre is double-glazed throughout and the main external doors have draught-proofing to reduce heat loss.
Our volunteer accommodation building, known as "the bothy", features amongst other eco features a green roof. This provides good insulation to keep the human residents warm and cosy as well as providing additional habitat for nature to thrive in – so much so that we regularly have to remove small sapling trees which start growing up there!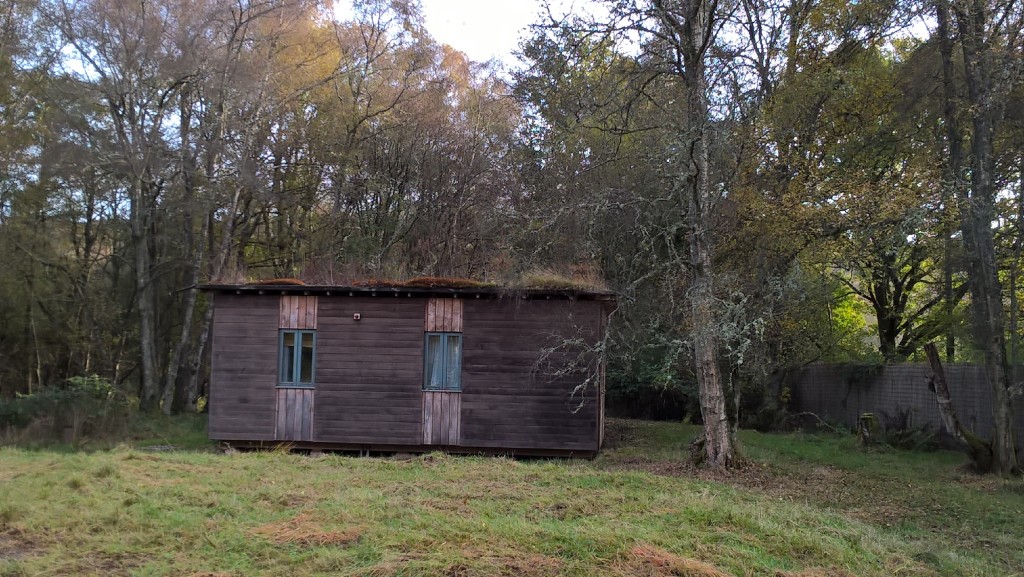 Water
Our public toilets are fitted with cistern blocks to reduce water usage and we have a Klargester NG BioDisc sewage treatment plant and pump station which handles all of our sewage and waste water output.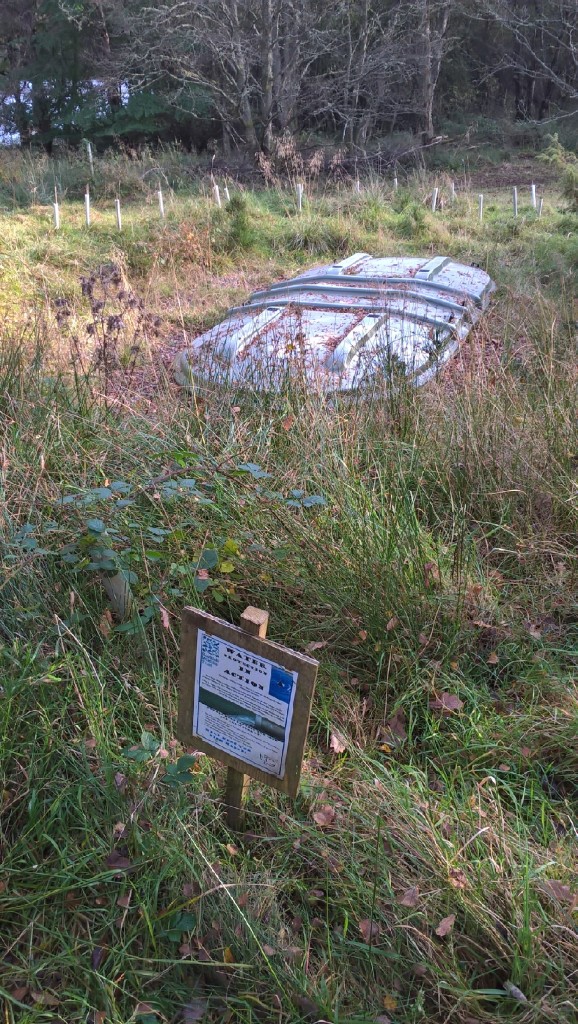 Solid and liquid waste is separated and biologically treated. Solid matter is retained within the plant and periodically removed, whilst the water component, which after processing is free from solids and pollutants, is released into the loch via a reedbed system. The reedbed acts as a backup in the very unlikely event of any remnant pollutants remaining in the water.
Waste management
We try to recycle as much as possible of the waste that is generated at Loch of the Lowes by staff, volunteers and visitors.
There are bins in the visitor centre and Crannog hide for dry mixed recycling (paper, cardboard, cartons, cans & plastic bottles), glass bottles, and food waste.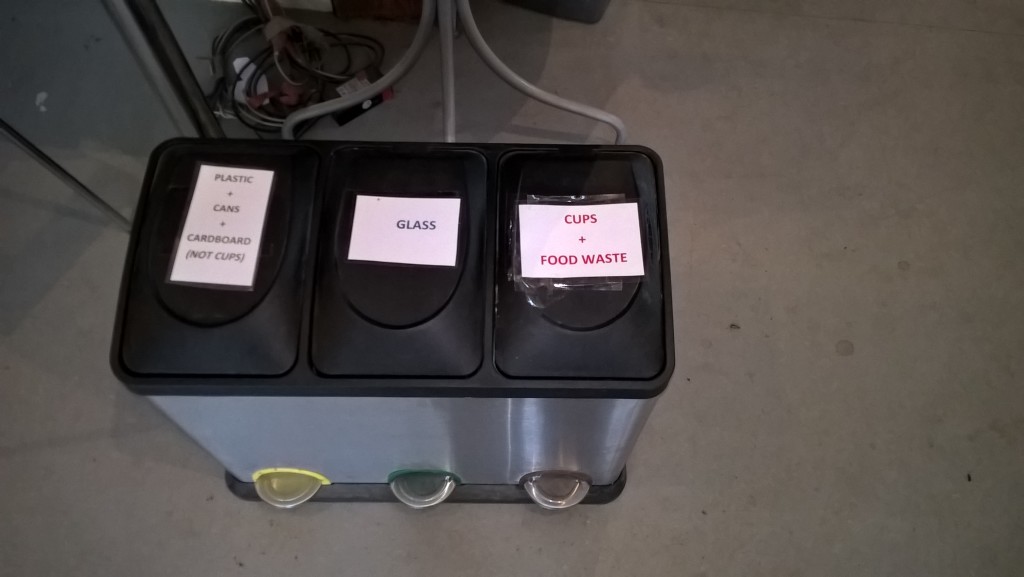 Did you know that most "paper" cups like those found in Starbucks, Costa Coffee etc. cannot be recycled? This is due to plastics which are used to make the waterproof inner lining. There is only one recycling plant in the UK which is currently able to recycle conventional "paper" cups and most companies don't bother due to the high cost involved.
However there is an alternative… we have recently sourced 100% compostable paper cups! Instead of using plastics the inner lining is made from plant starch-based material which is totally biodegradable so the cups can be recycled as part of our food waste collection.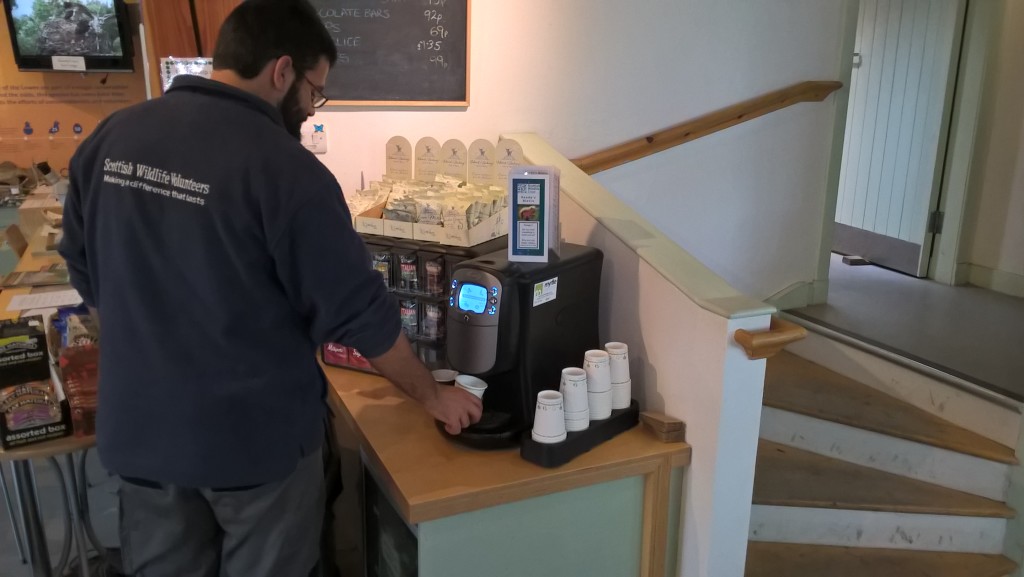 Food and Drink
Whilst we're on the subject, we try our best to responsibly source our food and drink offering.
For example:
Our hot drinks are 100% independently certified under either the Rainforest Alliance or UTZ schemes.
Our fruit juice cartons and chocolate bars are Fairtrade certified.
Our biscuits are organically produced and our cakes contain RSPO certified palm oil.
Food miles are also an important consideration, for instance our crisps come from Mackie's – a family owned company based in Perthshire.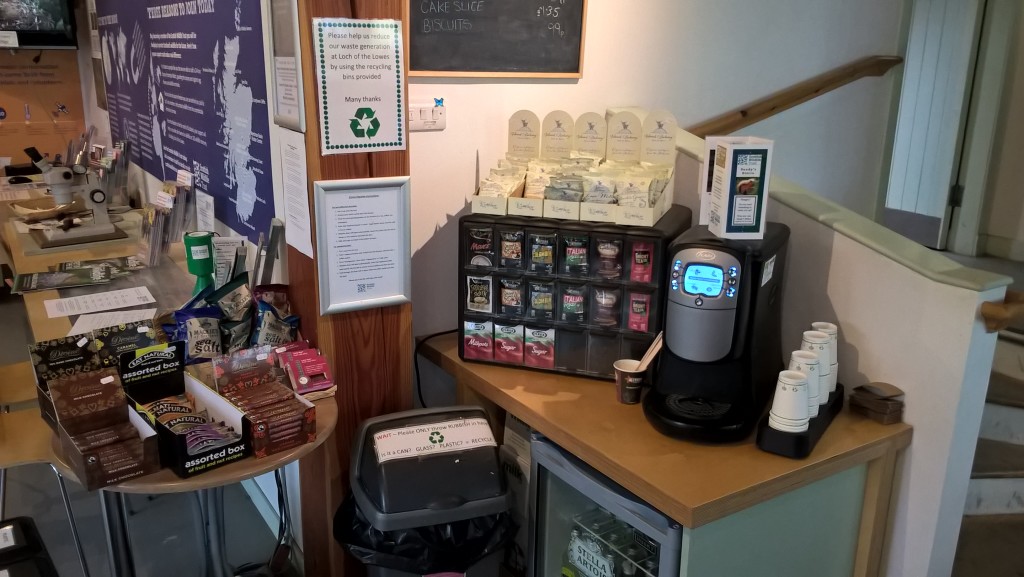 Transport
Now it has to be said that Loch of the Lowes isn't the easiest place to get to by public transport. However, it isn't impossible, particularly if you're prepared to walk the two miles from Dunkeld along the beautiful Fungarth path.
There is a limited bus service (Stagecoach 60: Dunkeld-Blairgowrie) which passes the Loch of the Lowes road end in both directions on Tuesdays, Thursdays and Saturdays. You can download the timetable here, or alternatively pick up a printed copy from the visitor centre on your next visit. Otherwise the Stagecoach 23/27 (Perth to Aberfeldy/Pitlochry) provides a frequent service to Dunkeld (see timetable here or pick up a copy at the visitor centre).
We also try to keep a stock of Scotrail train timetables for services to Dunkeld & Birnam for anyone travelling from further afield.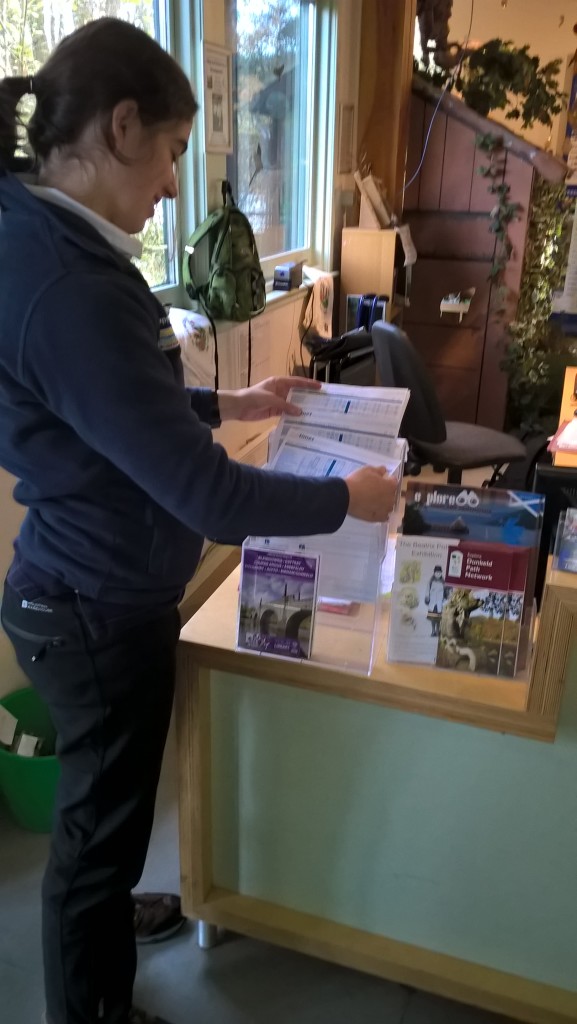 For those people who prefer more active travel we provide a number of cycle racks in the car park so that visitors on two wheels have somewhere to safely leave their bikes.
More than just wildlife
Hopefully this blog has revealed to you that what we're doing here at Loch of the Lowes is about more than just protecting wildlife. We're trying to lead by example in terms of our environmental responsibilities and encourage other individuals and businesses to consider how they can reduce their impact.
Help protect Scotland's wildlife
Our work to save Scotland's wildlife is made possible thanks to the generosity of our members and supporters.
Join today from just £3 a month to help protect the species you love.
---
Preface
Global climate change and the degradation of ecosystems through resource depletion are two of the biggest challenges that our planet currently faces. As much as we may not wish to, the …