Beautiful butterflies in magnificent meadows
I recently got the chance to visit Upper Nethan Gorge (a Scottish Wildlife Trust reserve) with Laura, the Ranger at Falls of Clyde. As we walked through a meadow, dozens upon dozens of brown butterflies fluttered up from the long grasses and tall flowers. I'm not sure I've ever seen so many butterflies at once and it was a wonderful wildlife sighting.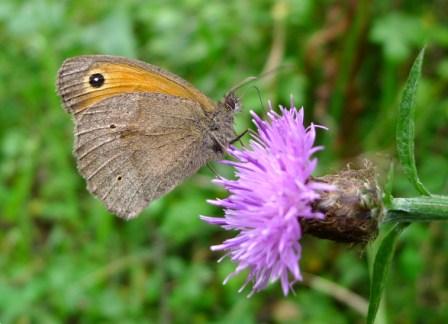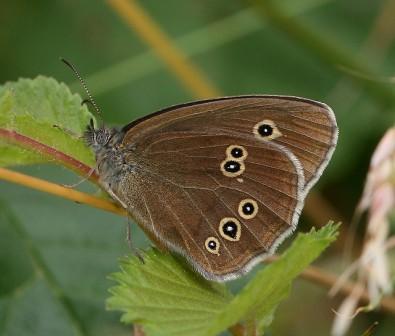 When most people think of butterflies, the first image that springs (or flutters) to mind is an insect with big wings, full of gaudy colours; blues, reds, yellows, purples. We do have some stunning displays of colour in our UK butterflies, such as the aptly named Peacock butterfly, the yellow Swallowtail or Purple Emperor butterflies.
However, my eye has recently been drawn to two species which are more muted in colour. They are the Meadow brown (Maniola jurtina) and the Ringlet (Aphantopus hyperantus). As you may have guessed, the Meadow brown is… brown! As is the Ringlet. The most obvious way to tell these butterflies apart is to look for the orange underwing of the Meadow brown.
The Meadow brown also has a spot on each upper wingtip, which are supposed to look like a bird's eye! This confuses a bird which might otherwise eat it, giving the butterfly a chance to escape. The 'eye-spots' on the wings of a Ringlet are there to confuse birds for the same reason. In this case, the spots actually reflect ultra-violet light (which birds can see and we can't). The glowing spots look a lot like the eyes of a small mammal, which the birds are not interested in, so they leave the butterfly alone.
Butterflies are an indicator of environmental health, so they are a welcome sight. If you would like to learn more about butterflies, why not book a place on one of our Butterfly Net Workshops? The events are suitable for children (over the age of four) and more information on how to book can be found at http://scottishwildlifetrust.org.uk/falls-of-clyde
Sarah Cooper – Seasonal Ranger, Scottish Wildlife Trust
 
Help support our vital work and join us today!
Help protect Scotland's wildlife
Our work to save Scotland's wildlife is made possible thanks to the generosity of our members and supporters.
Join today from just £3 a month to help protect the species you love.
---
Preface
I recently got the chance to visit Upper Nethan Gorge (a Scottish Wildlife Trust reserve) with Laura, the Ranger at Falls of Clyde. As we walked through a meadow, dozens …