How to become an otter spotting expert
I hope everyone has been enjoying the fair weather we have been having; it has been so wonderful to feel the warm sun on my face after so many grey and gloomy days. I haven't seen our peregrines in a while which is nothing to be too concerned about but I have had regular sightings of dipper, heron, goosander and cormorant up and down the river.
One creature I am very much looking forward to seeing this winter is an otter; we have been very lucky in recent years to see them regularly through February and March.
If you are wondering what you need to know to help you become an otter spotting expert, read more below!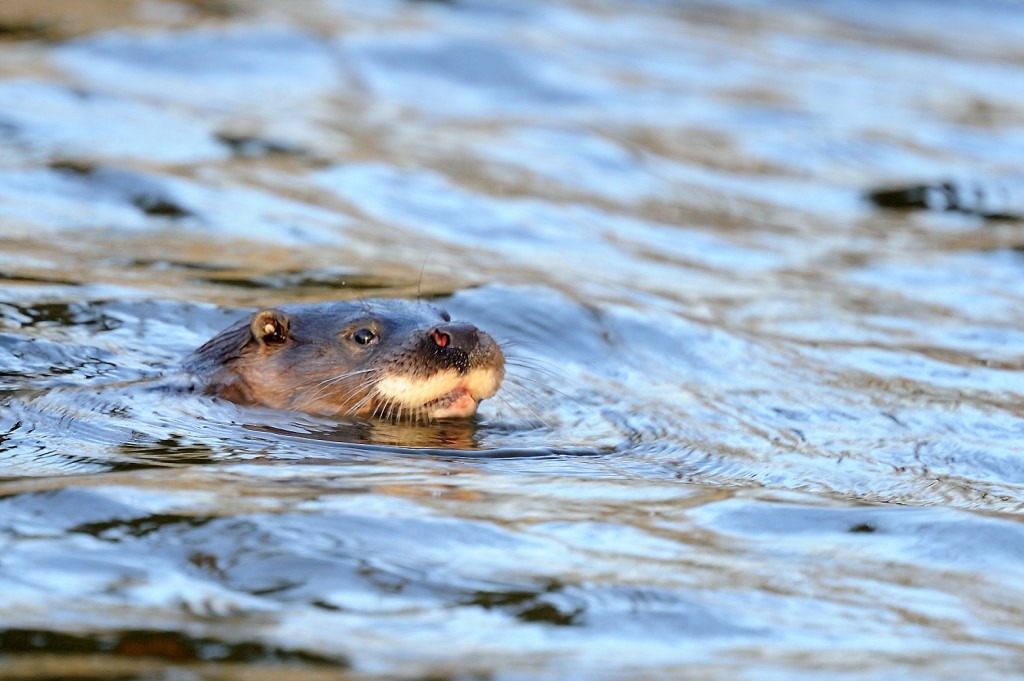 Obviously the first one is the otter itself. Otters are quite large with a flattened head and broad muzzle. If you are wondering about whether you may have seen an otter or a mink – otter are larger than domestic cats and mink are smaller. When watching an otter swim through the water you will often only see their head, but with a mink you will see their whole back above the water.
It is also good practice to look out for otter prints – they have 5 toes and webbed feet, you are most likely to see dog prints (4 toes) so it is good to familarise yourself with the differences.
Last year our otters fed so regularly across the river from our offices in New Lanark, that you could make out a tiny pile of white fish bones (or shrapnel) on the banking. This would be the perfect place to look for an otter as they are likely to come back and feed in the same place again.

The droppings of an otter (known as a spraint) which are 2 – 7cm long, will contain fish bones and scales, be tarry and black but these will turn grey when old and naturally, they will smell very strongly of fish. You can often find these in very prominent places like on rocks or open ground.
Finally, I would just like to take a moment to mention that we were very saddened to hear about the sudden loss of a dear friend and former colleague, Steve Kane. He was the Species Protection Officer at our Peregrine Watch Site for many years and our thoughts go out to his family.
Laura Preston – Scottish Wildlife Trust, Falls of Clyde Ranger
Help support our vital work and join us today!
Help protect Scotland's wildlife
Our work to save Scotland's wildlife is made possible thanks to the generosity of our members and supporters.
Join today from just £3 a month to help protect the species you love.
---
Preface
I hope everyone has been enjoying the fair weather we have been having; it has been so wonderful to feel the warm sun on my face after so many grey …