The pink-foots are coming!
Autumn is well and truly upon us and it is the time of year when I begin to see flocks of pink-footed geese decorating the skies in their characteristic V-shaped skeins. It feels very disconcerting, almost as if the end if nigh, do they know something I don't! Are they flying away from some horrific natural disaster which is about to come and wipe us all away. Thankfully not! Migration is a fantastic thing to watch, a truly magical spectacle to bear witness to.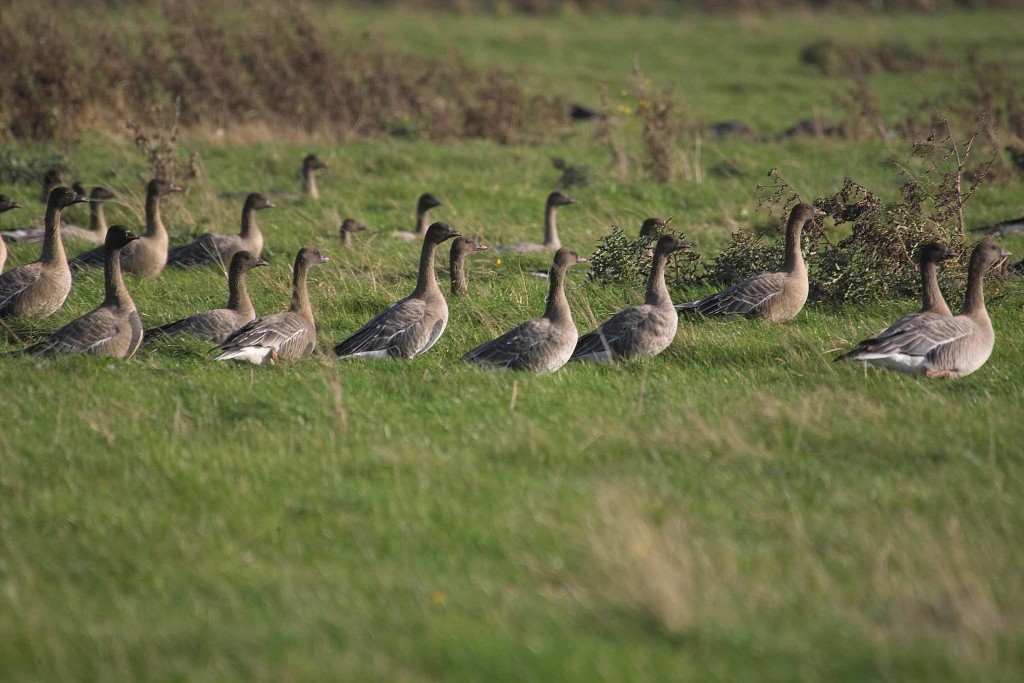 We are very lucky in this part of Lanarkshire because often these geese will stop in the fields between the reserve and Hyndford Bridge. If you ever leave Lanark and head towards Rigside you will often see them in the fields on the right hand side. The geese we see are actually flying here for winter because it is much warmer and there is more food than their breeding grounds in Iceland and Greenland.
There are approximately 372,000 in the world and around 90% of them winter in Britain! From ringing recoveries, it is well known that pink-footed geese do not stay in the same place during the winter months, but instead moving around the UK. You might come across birds that are ringed, many of which also where plastic neck collars. They will be marked with a unique code which you can read with binoculars. Pink-footed geese have been monitored annually since the 1960's and by sending your sightings of marked birds, you will receive a full history of all the sightings of that bird and you will be contributing to the knowledge of this important population of birds. You can report a ringed bird by visiting the BTO website.
Help protect Scotland's wildlife
Our work to save Scotland's wildlife is made possible thanks to the generosity of our members and supporters.
Join today from just £3 a month to help protect the species you love.
---
Preface
Autumn is well and truly upon us and it is the time of year when I begin to see flocks of pink-footed geese decorating the skies in their characteristic V-shaped …