Falls of Clyde Recent Sightings 25th-31st August
Hi,
The final week of August brought with it a spell of settled weather and plenty of sunshine. This provided perfect conditions for watching our summer migrant birds before their imminent departure. Swallow, house martin and sand martin showed particularly well at Bonnington Pavilion where they could be seen hawking insects. Meanwhile a couple of spotted flycatcher showed well upstream of Bonnington Weir (30th). Meadow pipits are already on the move and the distinctive call of birds flying over the reserve could be heard throughout the week. Another call which I associate with early autumn is that of the robin, as it can often be one of the only sounds you here during a walk through the woods at this time of year.
Our final Badger Watch of the year produced four badgers emerging from the sett. Bat activity was also high with good numbers of soprano pipistrelle and daubenton's bats seen on the way back to the Visitor Centre.
Flowering plants on the reserve included, devil's bit scabious, common knapweed, ling heather and harebell. These in turn attracted many insects including green-veined white and meadow brown butterflies as well as numerous hoverflies.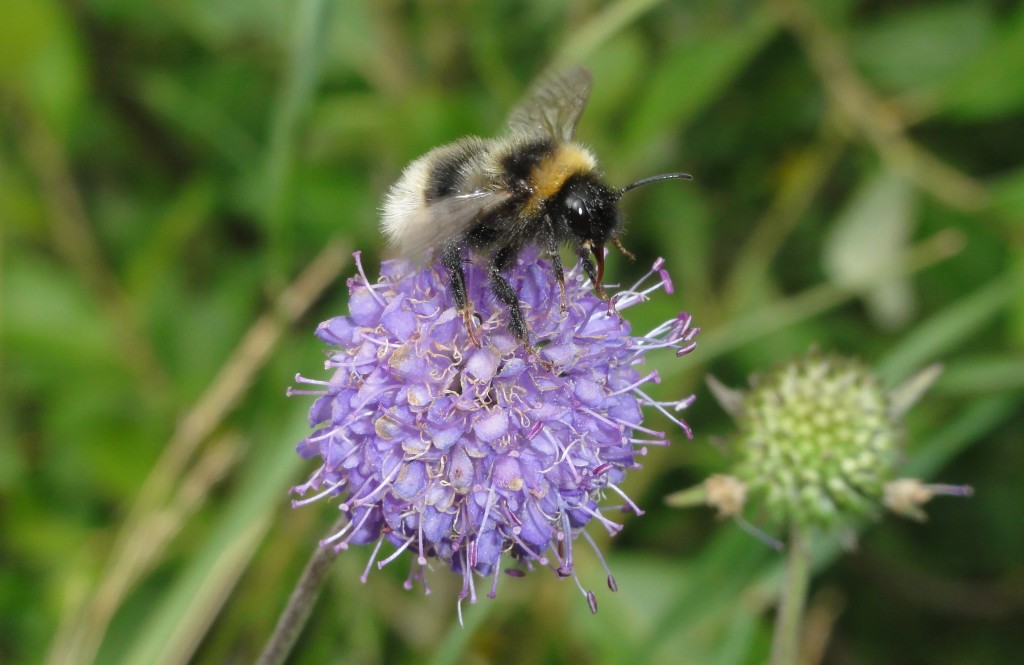 Flowering Devil's Bit Scabious is popular with insects on the reserve (C) Adam Jones.
Other interesting sightings included, 5x mute swan (Bonnington Weir, 29th), 67x mallard (Bonnington Weir, 26th), 5x stock dove (Walled Garden, regular), 1x swift (Bonnington Weir, 30th), 1x kingfisher (Visitor Centre, 29th), 2x dipper (Dundaff Linn, regular), 1x nuthatch (Surge Tank, 30th) and 2x crossbill (Bonnington Trail, 30th).
Weather Watch
An area of low pressure is likely to block bird migration from Scandinavia during the week ahead. Here in South Lanarkshire light northerlies could assist southbound birds already in UK airspace, one species which may take advantage of the winds is common swift. So this week I'd suggest visitors should look out for migrating swifts in what could be their final viewing opportunity of 2015 as birds depart for Africa.
Adam Jones – Scottish Wildlife Trust, Falls of Clyde Seasonal Ranger
Help support our vital work and join us today!
Help protect Scotland's wildlife
Our work to save Scotland's wildlife is made possible thanks to the generosity of our members and supporters.
Join today from just £3 a month to help protect the species you love.
---
Preface
Hi, The final week of August brought with it a spell of settled weather and plenty of sunshine. This provided perfect conditions for watching our summer migrant birds before their …