With the Kingfisher making an almost daily appearance at the Visitor Centre we thought it was about time we gave this enigmatic species its own blog post.
This is one species that doesn't need any physical descriptions, but at only 16-17 cm it's definitely much smaller than people expect and on very dull days you can get a hint of the Kingfisher's actual colour, a dark brown. The distinctive colours that we see are actually due to the interference between the different wavelengths of light being reflected from the different layers of its feathers. Males and females can be distinguished from each other by the orange-red colour of the female's lower mandible, and juveniles tend to be duller than the adults with blackish feet.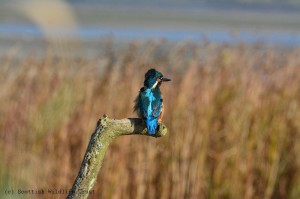 Its compact body, large head and long bill make it perfectly adapted for dive fishing, and the distinctive head bobbing is a good indicator that food has been spotted as it uses this movement to gauge the distance of the prey. While it keeps its body compact and streamlined in dive, the wings are opened once it enters the water, allowing it to reduce its speed and depth as well as propel itself back out of the water. To ensure that it continues to have a visual on its prey once it enters the water its eye has two foveae (the area of the retina which contains the greatest density of light receptors) and the Kingfisher is able to switch from the central fovea to the auxiliary fovea giving it binocular vision while in the water. It is also able to protect its eye by closing a transparent third eyelid.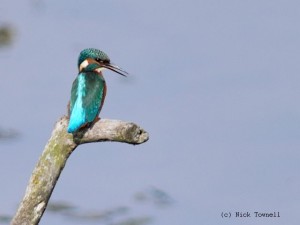 Kingfishers are solitary and highly territorial, mainly due to the fact that they must eat around 60% of their body weight on a daily basis, with territory size depending on the amount of food available. Even pairs formed in autumn will keep separate territories until mating begins in spring. Due to this high food requirement mortality rates can be high, especially in juveniles who may not have even learnt to fish before they are driven off their parents' territory, and being high on the aquatic food chains means that they are vulnerable to river pollution and build-up of chemicals.
Georgina Bowie, Visitor Centre Assistant
Help protect Scotland's wildlife
Our work to save Scotland's wildlife is made possible thanks to the generosity of our members and supporters.
Join today from just £3 a month to help protect the species you love.
---
Preface
With the Kingfisher making an almost daily appearance at the Visitor Centre we thought it was about time we gave this enigmatic species its own blog post. This is one …