Wildlife watching in Autumn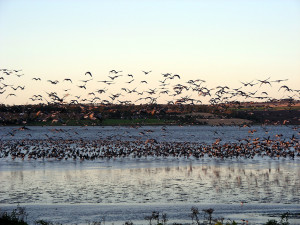 September is officially the start of autumn in the UK and with the earlier nights and slight chill in the air it's easy to start thinking about staying indoors, drinking a warm cups of tea, and watching the TV. But it's definitely worth ignoring this instinct to hibernate, putting on another layer, and getting outside to do some wildlife watching. Not entirely convinced? Here's why.
Firstly, as the vegetation starts to die back and the leaves begin to fall from the trees it becomes a lot easier to see the birds and mammals around you. You'll find out that that rustling noise you've been hearing in the trees is actually a Red Squirrel and the distinctive 'tsee tsee tsee trrrr' call belongs to a Blue Tit. In fact, if you've always wanted to learn to identify birds by their song, now if the best time to start as you can see exactly which birds are making which noise. September is also the month when hedgerows and trees become laden with berries. For many birds this is an important source of food, especially as it becomes scare in other areas, and you can get great views of even the most cautious species helping you practise your identification skills it time for the more challenging summer. Red Squirrels also go into overdrive around this time of year, finding seeds and nuts to bury for the winter, and this greatly increases your chances of getting prolonged views of this enigmatic creature.
While we usually identify spring with the season of breeding, autumn also plays a key part in the reproduction of many species. Rutting Red Deer are probably one of the most famous autumn wildlife events in Scotland. With Red Deer becoming more visible in autumn as the colder weather causes them to move down to lower ground in the Highland and Islands, now is the perfect time to watch and listen to the larger males strutting and bellowing in an attempt to ensure that they father a number of next year's offspring.   Autumn is also the time that Grey Seals pup. Mainly found in the north of Scotland, especially Orkney and Rona, silky white pups can be seen on the coastal rocks staying out of the water and keeping warm in the autumn sun. A little further in land, many of the male wildfowl that have spent the last couple of months in eclipse are now moulting back into breading plumage. Particularly impressive, and visible, around this time of year are the Eider, Teal and Wigeon ducks.
Here at the Basin the loss of summer migrants certainly doesn't leave our muddy landscape bare, with wader numbers being at their highest during the autumn and winter months. A scan across the exposed mud regularly produces sightings of Redshank, Greenshank, Lapwing, Curlew, Oystercatchers, Dunlin and Knot, as well as less regular sightings of Black-tailed and Bar-tailed Godwits, Golden Plover, and Whimbrel. The number of wildfowl numbers also increases. Along with the spectacular view of thousands of Pink-footed Geese flying into the Basin, we also get Pale-bellied Brent Geese, Mute and Whooper Swans, Goldeneyes, Pintails, Shelduck, Wigeon, Teal, and of course Eider ducks. Large numbers of Goosanders and Red-breasted Mergansers can be seen throughout autumn and winter, and there's even a chance of seeing a Red-throated Diver here during September. Autumn and winter also makes perfect viewing of the Kingfisher from the Visitor Centre window as the salinity of the water found in the Salt Pans prevents the water from freezing, allowing for fishing throughout the colder months.
Of course, the added bonus to watching wildlife during these colder months is the lack of biting insects, like midges, and ticks.
Georgina Bowie, Visitor Centre Assistant
Help protect Scotland's wildlife
Our work to save Scotland's wildlife is made possible thanks to the generosity of our members and supporters.
Join today from just £3 a month to help protect the species you love.
---
Preface
September is officially the start of autumn in the UK and with the earlier nights and slight chill in the air it's easy to start thinking about staying indoors, drinking …