Times are a Changing at Loch of the Lowes
Autumn is my favourite season at Loch of the Lowes ( well second after osprey hatching time) with its beautiful colours and the daily changes to the light, the landscape and the wildlife arriving and leaving. The woods around the loch are starting to colour up- though not anywhere near the full splendour of a Perthshire October yet- worthy of any artist or photographers skills.
The warblers and flycatchers, swifts  and summer migrants like the ospreys have gone already, flying southwards for the winter. There are still a few hangers on like some swallows and martins, but they are massing to leave soon too.
But to cheer us all up the autumn arrivals are starting to drift in- there were 30 Tufted ducks on the loch this morning, some Goldeneye and greylag geese, as well as Pink footed geese flying over in their characteristic neat V formations with high pitched voices.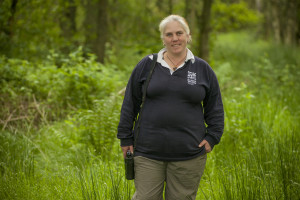 Sadly, this year I too am joining the autumn exodus and I will be leaving post as Perthshire Ranger in early October. The last three years have been a labour of love for me, and an enormous privilege- not just to work in such beautiful surroundings, but to work alongside so many inspiring and dedicated staff and volunteers, and to meet so many lovely people who share our enthusiasm and love of the wildlife and these special places. I have been supported in my work by amazing teams of volunteers to whom I am eternally grateful and by much public feedback and encouragement- thank you all !
I am going on to pastures new, leaving the Loch of the Lowes and our other local reserves in the capable hands of my colleagues and a part time interim ranger for the winter season. I know you will all understand that with a  skeleton staff over the winter, our blogs will be just weekly and we will do our very best to get back to enquires and questions when we can.
So, before I go, do you have any burning osprey or wildlife questions you want answered? If so, send them to ospreys@swt.org.uk before October the 1st please.
Do you want to meet Ranger Emma before she goes?  Then why not join us for one last guided walk from Dunkeld to Loch of the Lowes this Thursday, 11am-3pm. Explore autumn woodlands and the local wildlife with the ranger , in this glorious sunshine! booking advisable on 01350 727337
Help protect Scotland's wildlife
Our work to save Scotland's wildlife is made possible thanks to the generosity of our members and supporters.
Join today from just £3 a month to help protect the species you love.
---
Preface
Autumn is my favourite season at Loch of the Lowes ( well second after osprey hatching time) with its beautiful colours and the daily changes to the light, the landscape …