We've all gone batty at Loch of the Lowes: 21st August
Whilst the warm weather may be stirring clouds of midges that spoil waterside picnics for some, for bats it has created an all you can eat buffet! With a single Pipistrelle bat able to consume 3000 midges in one night, the bats here at Lowes have been seen making the most of this plentiful food supply.
Having previously worked in bat consultancy myself, alongside other experienced staff and volunteers we have made it our goal to better our knowledge of the bat species present on our reserve, and boost the profile of these fabulous mammals. A special staff bat training night was held, equipping all with the basic knowledge to conduct our very own bat surveys. We have all been busy putting these skills into practice, patiently watching the buildings and bat boxes for emerging bats and using our detectors to identify the species found.
There are nine species of bat living in Scotland, ranging in size from the Common Pipistrelle weighing in at less than a £1 coin, to our biggest bat the Noctule which is still small enough to fit in the palm of your hand. Despite the popular myths of all bats being blood sucking animals, all British bats are insectivorous and catch their prey either by hawking (capture in flight), gleaning (hovering to pluck insects from trees or bushes) or gaffing (grabbing insects from the water surface).  So far we have identified four species here at Lowes, the Common Pipistrelle, Soprano Pipistrelle, Daunbenton's and an exciting rare Noctule sighting.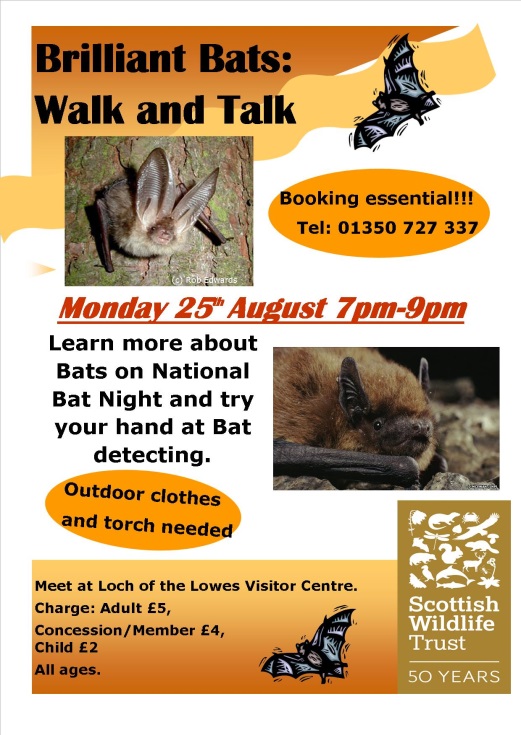 If you are lucky enough to have bats in your area, you do not need a detector to be able to enjoy the spectacle of bats in flight. Between March – September, go for a walk around dusk, and if you know where to look you might be surprised by how many bats you find. Common and Soprano Pipistrelles are the most common bats found in urban and rural spaces. They like to roost in cracks in buildings and in gaps under roof tiles, and frequently feed in gardens, parklands and woodlands. Emerging soon after sunset, a walk along a woodland or field path should be rewarded with a view of a frantic, zig-zag flight pattern of a Pipistrelle. However if you live near a slow flowing river or loch, you may catch a glimpse of a Daubenton's bat, with its distinctive low figure-of-8 flight just centimetres from the surface, perfect for picking insects from the water. This species likes to roost in old masonry structures, and I've found canals and lochs with nearby stone bridges excellent spots to watch these bats in action.
Watch this space for more information on what you can do to attract bats into your area. If you would like to find out more about these fascinating mammals, join us on Monday 25th August to celebrate National Bat Night. We will be learning all about bats, with a range of craft activities for children of all ages and a guided walk where you can try your hand at bat detecting. Booking for this event is essential, please call 01350 727 337.
Charlotte Fleming, Volunteer Assistant Ranger.
Help protect Scotland's wildlife
Our work to save Scotland's wildlife is made possible thanks to the generosity of our members and supporters.
Join today from just £3 a month to help protect the species you love.
---
Preface
Whilst the warm weather may be stirring clouds of midges that spoil waterside picnics for some, for bats it has created an all you can eat buffet! With a single …