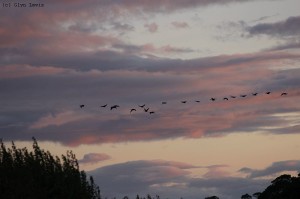 This week has definitely been a week of Canada Geese, with numbers remaining high at 380 throughout the week. Their very distinctive V-flight formation can be seen across the sky, especially in early mornings and late afternoons.  Pink-foot numbers have remained at 9 as have the Greylag Geese at 38. So far all these sightings have been on the west area of the Basin, but the next few months should give us closer viewing from the Visitor Centre and it shouldn't be too long now until we start to see the large flocks of Pink-footed Geese we expect to see in September.
Wader numbers have now increased to those we are used to seeing through autumn and winter, though there have been some unusually high numbers for some of the species. 1006 Oystercatchers, 1289 Curlew, 1147 Redshank, and 12 Greenshank are what we would expect. However, this year's 867 Lapwing is almost 3 times the number from last year and the 149 Dunlin and 201 Black-tailed Godwit are also much higher than this time last year. Other wader counts for this week have been 4 Knot, 1 Snipe and 8 Golden Plover.
Other sightings this week include 2 Gadwall at the Salt Pans, 2 Moorhen, 1 Osprey hunting out front, 271 Cormorants, 101 Goosander and 54 Red-breasted Mergansers throughout the Basin, and 6 Goldeneye. Slightly more unusual sightings have been the Short-eared owl and the 4 juvenile Little Grebes both spotted on the 24th.
Georgina Bowie, Visitor Centre Assistant
Special thanks to Glyn Lewis for allowing us to use his photo.
Help protect Scotland's wildlife
Our work to save Scotland's wildlife is made possible thanks to the generosity of our members and supporters.
Join today from just £3 a month to help protect the species you love.
---
Preface
This week has definitely been a week of Canada Geese, with numbers remaining high at 380 throughout the week. Their very distinctive V-flight formation can be seen across the sky, …