Well folks, it looks like there is no longer any doubt our beloved female osprey has left on her autumn migration as we haven't seen her on the loch now since Monday. We all wish her a safe and swift journey to her wintering grounds, and a most welcome return next spring if she's able. There is every possibility she will make it back to Loch of the Lowes in 2015- is she does it will be a truly remarkable 25 years for her at this nest! What change that 25years has seen- and how far and well the osprey population has recovered in that time too! What a great symbol she is of this conservation success story- truly inspiring I am sure you'll agree.
This time of year is an exciting one for all osprey watchers- there are young birds and transiting birds in the skies all over the UK. Everyone can help with osprey research science and conservation in a very practical way during migration times- here's how:
Anytime you are near any water in the UK spring and autumn, keep an eye out for ospreys , even if it not a know nesting site- they often drop by on route.
Look closely through binoculars or telescopes and see if you can see coloured leg rings ( known as a Darvic ring) or satellite tracking device aerials on the birds: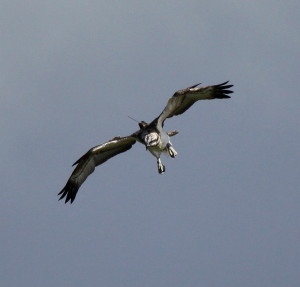 Take photos- lots of photo's! Digital photos can often be enlarged and enhanced to read leg ring numbers not visible to the naked eye.
Every leg ring sighting is valuable- it helps us know which birds survive, which routes they take and where they end up!
Submit your sightings to your local osprey project, or to ospreys@swt.org.uk or to websites such as: www.roydennis.org  or the European wide EURING scheme at http://blx1.bto.org/euring/main/
We are of course desperately hoping that someone somewhere in the UK (or in France/Spain/Portugal) will spot one of our young ospreys this autumn, such as Blue YD or even Blue 44- they could well be out there so eyes to the skies folks and let us know!
It is always sad when the Scottish osprey season draws to a close , and we all feel a little bereft without our favourite birds, but we can start looking forward to next year now!
Ranger Emma
Help protect Scotland's wildlife
Our work to save Scotland's wildlife is made possible thanks to the generosity of our members and supporters.
Join today from just £3 a month to help protect the species you love.
---
Preface
Well folks, it looks like there is no longer any doubt our beloved female osprey has left on her autumn migration as we haven't seen her on the loch now …