At long last we have some new arrivals on the Tern Raft, in the form of two Common Tern chicks! Having suffered so many setbacks over the summer we were prepared for another year without successful breeding, however, it looks like the Tern's fortunes may finally have changed. Two chicks were spotted yesterday afternoon as they temporarily left the safety of their hollow brick 'houses' to pester their parents for food. Due to the fact the Tern Raft camera isn't working at the moment we can't confirm if there are any more chicks on the raft, but it's a distinct possibility that there are more hidden safely inside their bricks. Although it's late in the season, there should still be plenty time for the chicks to fledge successfully before their return migration in September.
Today has been a particularly busy day in terms if sightings, with the Lurgies playing host to a Little Egret. Although the species can still be classed as uncommon in the area, sightings of them are increasing as they breed in England and establish themselves in the UK. Also seen on the Lurgies today were 2 Kingfishers, a Ruff and a Green Sandpiper. Seen elsewhere today was an Osprey, a Sparrowhawk, 82 Dunlin, 42 Black Tailed Godwits, 56 Grey Herons, 94 Red Breasted Mergansers and 90 Goosander. Throughout the week it has also been waders filling the pages of our sightings book, with 8 Common Sandpiper, 2 Wood Sandpiper, 3 Greenshank, 1 Ringed Plover and 1 Little Ringed Plover all been seen. Sandwich Tern numbers have been high throughout the week with a peak of 284 being counted on Rossie Spit today and the adult Moorhen with 2 chicks has continued to be seen in the Salt Pans area.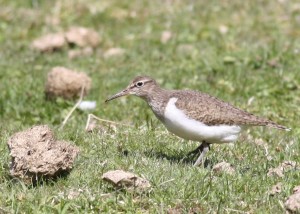 Craig Shepherd,
Visitor Centre Assistant Manager.
Help protect Scotland's wildlife
Our work to save Scotland's wildlife is made possible thanks to the generosity of our members and supporters.
Join today from just £3 a month to help protect the species you love.
---
Preface
At long last we have some new arrivals on the Tern Raft, in the form of two Common Tern chicks! Having suffered so many setbacks over the summer we were …