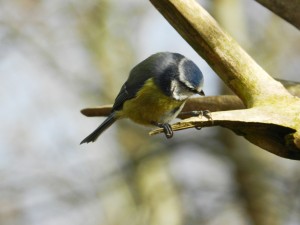 Probably the most obvious sight this week is the size of this year's ducklings and chicks, with many now only distinguishable from their parents by the remnants of downy feathers. While Eider and Mallard ducklings can still be distinguished from the window, this marks the ending of the breeding season for many of our water based species. However, some of our smaller, shorter lived woodland species may now be on their second brood.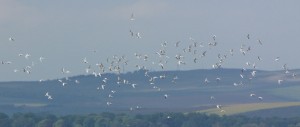 Eyes are still firmly fixed on the Tern Raft, with numbers reaching up to 26 individuals of possibly Common and Arctic Terns. While distinct pairs can be seen, it's looking more and more likely that this is a colony of unsuccessful breeders. This is not unusual for Common Terns, with individuals not starting to breed until they are 3 years old and successful breeding only truly occurring once they are 5. While the raft may not be the home to any young Terns this year, there's every hope that these individuals will return to the raft early next year to breed.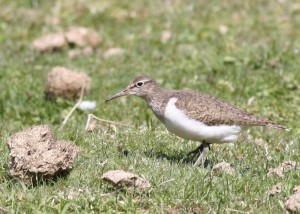 Other sightings this week include 2 Common Sandpipers and 2 Linnets at the Salt Pans on the 8th, juvenile Great-spotted Woodpeckers making regular visits to the feeders and a White Throat by the Dipping Pond, also on the 8th. 23 Sandwich Terns were spotted again, this time on the mid basin sand banks. Curlew, Redshank, Lapwing, and Oystercatchers can be seen throughout the basin at low tide and even at high tide today 90 Redshank, 28 Oystercatchers and 56 Lapwing were seen from the Visitor Centre window. Today's count also include a Sedge Warbler at the feeders, 2 Swallows over the Salt Pans and 33 Goosanders, 128 Mute Swans and 140 Shelduck throughout the Basin itself. 20 Gannets were also spotted today at Montrose Bay. No Osprey have been recorded this week, but the tide times have meant that they are probably hunting at the Basin in the early mornings or evenings.
Georgina Bowie, Visitor Centre Assistant
Help protect Scotland's wildlife
Our work to save Scotland's wildlife is made possible thanks to the generosity of our members and supporters.
Join today from just £3 a month to help protect the species you love.
---
Preface
Probably the most obvious sight this week is the size of this year's ducklings and chicks, with many now only distinguishable from their parents by the remnants of downy feathers. …